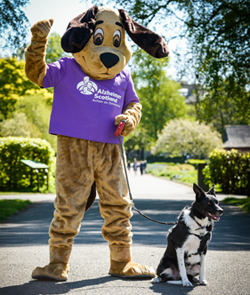 A special message from Buddy the Dog:
Memory Walkies is a great new way for us dogs and our K9 friends to help make sure nobody faces dementia alone.
I need Top Dogs to gather a pack of canine friends for a fun sponsored walk.
As the number of people living with dementia in Scotland continues to rise there has never been a more vital time to support the work of Alzheimer Scotland. People living with dementia and their carers tell us they need support and care today. 100% of funds raised by Alzheimer Scotland stay in Scotland and we need to continue to reach out to people living with dementia now so that they can live well in their own homes and communities for as long as possible.
By coming together, we can meet the challenge of dementia and create a better future for all of us.
So grab your owner and get them to sign us up today! Download your free toolkit here.
Buddy
Alzheimer Scotland Mascot