The worry that someone, perhaps even you, might have dementia is one of the hardest issues any of us will have to face. However, having difficult conversations about dementia – with partners, with family and friends, or with medical professionals – can make a huge difference to someone's future quality of life.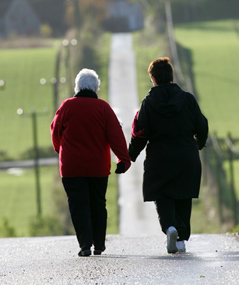 Talking about dementia makes it more likely that someone will get a diagnosis, which can open doors to a variety of support from the NHS, social services and organisations like Alzheimer Scotland. This is especially relevant now as there is a guaranteed minimum of a year's post-diagnostic support from a named link worker.
Why are we running this campaign? Each day, staff and volunteers across Scotland speak with hundreds of people who have dementia, are caring for someone with dementia, or who are worried that they or someone else may have dementia. One of the most common things people tell us is how difficult it can be to talk about their concerns that someone they care about may have dementia. Our Let's Talk about Dementia campaign will provide tips to help start those difficult conversations and is intended to:
encourage families and friends to talk more openly about dementia
break down some of the barriers such as the fear of dementia, stigma, and the worry that nothing can be done to help
encourage people to seek help
raise better awareness and understanding of dementia.
If you would like to know more click on one of the links below. Our freephone dementia helpline is open 24 hours a day, every day.