Recycling
Donate your unwanted jewellery, clothing and bric-a- brac and help us to provide dementia services in your area.
Send us your old or unwanted gold, silver, costume jewellery, even watches and we can turn these into £££'s to help support people with dementia in your area.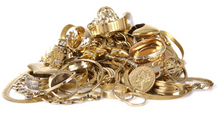 Broken and damaged items will help, so all of those odd earrings and snapped chains are a start. We will even accept your unwanted, old and new foreign and UK banknotes.
To order one of our Freepost recycling envelopes please email us at [email protected] or call us on 0131 243 1453.
Donate to our Charity Shops
But please don't stop there. Our Charity Shops are always on the lookout for good quality clothing, bric-a-brac, DVD's, books, handbags and toys. Even better, if you are a UK taxpayer, you can add an extra 25% to the value of the goods you donate by simply signing a Retail Gift Aid Declaration. We will then undertake to tell you how much money we raise from the goods you donate and how this is helping our important work and research.
For more information on where you can donate goods to our charity shops, please visit our Charity Shop page or contact us on 0131 243 1453.