The Rotary Club of South Queensferry Forth Rail Bridge Abseil
Sunday 28 May 2017
Location

South Queensferry

Contact

Register for 'The Rotary Club of South Queensferry Forth Rail Bridge Abseil'
This is your opportunity to experience the thrill of vertically descending 165ft from the Forth Rail Bridge at South Queensferry! Join us on Sunday 28th May for this fantastic challenge!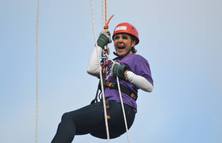 Registration fee: £30
Fundraising Target: £145
The Rotary Club will provide you with sponsorship forms upon registration. If you are setting-up an online giving page please do so for The Rotary Club of South Queensferry on JustGiving and not for Alzheimer Scotland. Following the event the Rotary Club will donate your sponsorship to Alzheimer Scotland, and once we have received it, we will send you a note of thanks.
Find out more
For any questions for the Rotary Club of South Queensferry Forth Rail Bridge Abseil please contact the events team on 0131 243 1453 or email events@alzscot.org.
Join our Volunteer support squad
We want to give the best support on the day to our fantastic team. If you are unable to do the abseil then why not come along and help support Team Alzheimer Scotland on the day. For more information just contact us at events@alzscot.org.
Dementia Scotland Limited (Registered company no. SC296817) is a trading subsidiary of Alzheimer Scotland – Action on Dementia (Registered charity no. SC022315) to which it donates all of its profits. Dementia Scotland Limited - Registered office: 160 Dundee Street, Edinburgh, EH11 1DQ.