View the Dementia Nurse network annual review 2014/15 here.
The Alzheimer Scotland Dementia Nurse Network is now well-established, with each nurse providing effective and inspiring leadership for their NHS colleagues and helping to make significant changes and improvements in health care delivery. The Dementia Nurse network annual review 2014/15 gives a flavour of what has been achieved by each Dementia Nurse and their Allied Health Professional Consultant colleagues.
Our
Dementia Nurse Network
is blossoming throughout Scotland (but we still have so much to do).
In 2010 we planted the seeds and launched our £1.5 million
Alzheimer Scotland Dementia Nurse Network Appeal. We had four
Dementia Nurses in post, but we wanted to extend that to all NHS
boards across Scotland – a total of at least fourteen nurses.
Thanks to your wonderful generosity and support from the Scottish
Government, our Dementia Nurse Network has been nurtured well
and allowed to grow. Our initial goal of funding one
dementia nurse in every health board was
achieved by the end of 2012. The network
needs continued nurturing and renewal
to ensure the significant impact of
these posts on the care experiences
of people with dementia is sustained.
We now need your support to ensure
this specialist network continues to
flourish and influence change for years
to come, as our work to drive up standards
of care for people in hospitals is far from over.
Many people with dementia and their families
continue to have distressing experiences of
hospital care. These experiences are avoidable
and we must do all we can to ensure each person
is treated with the dignity and respect they
deserve – nothing else will do.
Alan Murdoch/ Stephen Mullay
NHS Shetland
Gillian Coghill
NHS Orkney
Elizabeth Shelby
NHS Western Isles
Ruth Mantle
NHS Highland
Lyn Irvine-Brinklow
NHS Grampian
Andy Shewan
NHS Tayside
Nicola Wood
NHS Forth Valley
Helen Skinner
NHS Fife
Colin Macdonald
NHS Lothian
Sandra Shields
NHS Greater Glasgow and Clyde
Janice McAlister
NHS Ayrshire and Arran
Helen Fox
NHS Lanarkshire
Peter Lerpiniere
NHS Borders
Julie Garton
NHS Dumfries and Galloway
Working with the NHS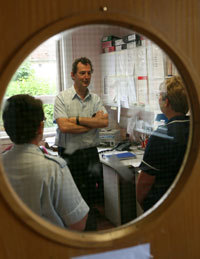 Our Dementia Nurses work closely with other NHS staff to improve understanding and awareness of dementia. Working together, they are bringing about real improvements and enhancing the knowledge and skills of others in caring for people with dementia. Significant change takes time and on-going commitment and that is why your support is more important than ever.
Every year, we invest £500,000 of voluntary income to ensure our Dementia Nurse programme continues to grow and flourish, so please support our vital work in Scotland's hospitals by helping our Dementia Nurse Network to grow and reach full bloom.