Meg's story
Meg's interest in Alzheimer Scotland stemmed from the time she looked after her mother who developed Alzheimer's in the 1970's.
Meg took an active interest in Alzheimer Scotland and sat on her regional services committee for some years, until she had to resign because of ill health.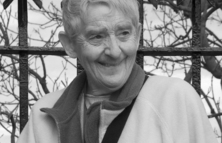 Her nephew Chris tells us "Meg had a sharp and enquiring mind, a great sense of humour, and loved travelling and socialising. We all learned lots of local and family history from her."
Meg made the choice to continue to support us in her will, and through her generosity, we are able to continue our vital work, in her memory.
"I'm sure Meg would have been pleased to know that her contributions might still be remembered."
For more information
Phone 0131 243 1488 or write to Alzheimer Scotland, 160 Dundee Street, Edinburgh, EH11 1DQ
Alternatively, download our Legacy leaflet to find out more and see what differences your gift will make. Thank you.