Golspie charity shop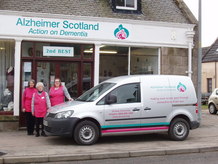 Summer Opening hours
Mon, Tues, Thurs, Fri:
10am - 5pm
Contact
Telephone: 01408 633534
Email: [email protected]
2nd Best, Main Street, Golspie, KW10 6RA
Please note: we are currently in the process of moving shop location so we are not taking any donations at this time.
We are always interested to chat to anyone who may like to volunteer even if they have only an hour or two a week.
The opening of this very successful shop was initiated by members of the local Alzheimer Scotland carer support group in 2001.
The shop is ideally situated on the main road through the village, the A9, which connects Inverness to the North coast of Highland, with car parking facilities in front of the shop and in the main village car park opposite, our shop is the social hub of Golspie.
The shop is staffed mainly by volunteers but more are always needed to help with the variety of helpful tasks which make this a very successful shop.
If you find yourself passing through Golspie the 2nd Best shop is perfect place to break your journey. You will be assured of a warm welcome.
Information about dementia and local support services is also available in store.