Sarah's story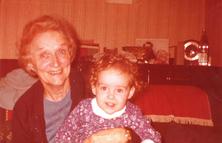 Sarah, a former carer, set up a Tribute Fund to raise awareness and honour the memory of her Gran, Maud. The whole family supported her with her unusual choice of event!
"My Gran was diagnosed with Alzheimer's in 1988. I was thirteen and had no idea what it was, let alone where it would take us." The whole family initially took onprimary care of her grandmother, with services back then being limited.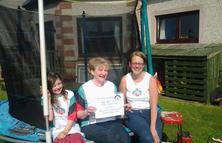 "I see the amazing services like our helpline, resource centres, our dementia advisors and link workers, that are now available to those living with a diagnosis and their carers, through my work with Alzheimer Scotland. I just had to contribute in support of all that we do to help those on the journey now."
This June, to help publicise Dementia Awareness Week and raise funds for Maud's Tribute Fund, Sarah, her mum and her daughter took part in Jump to It, a 24 hour sponsored trampoline event. To date, they have raised over £800.
Contact us