The Alzheimer Tartan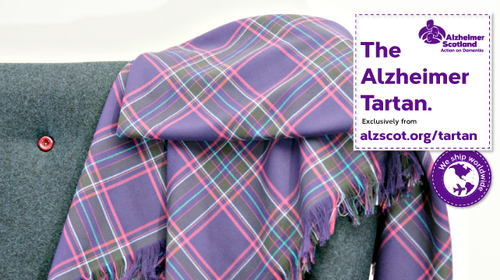 Show your support for people living with dementia with the Alzheimer Tartan.
Our diverse range of Alzheimer Tartan products are shipped worldwide, making it the perfect gift.
By purchasing our tartan, you're not only supporting people living with dementia, their carers and families but also providing invaluable funding for world-leading research to find a cure.
**UPDATE - NEW PRODUCTS AVAILABLE**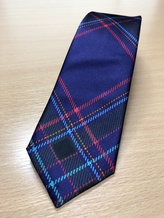 New silk Alzheimer products are now available exclusively from the Alzheimer Scotland shop.
Buy our silk tie or silk bow tie from the Alzheimer Scotland web shop now. Or head to the Tartan Online shop for the rest of our range.
The Alzheimer Tartan design has been created by leading tartan expert Brian Wilton MBE and donated by the Scottish Tartans Authority. The custom-made tartan is influenced by the Royal Stewart Ancient tartan to signify memories and heritage.
How does the Alzheimer Tartan support dementia research?
Our research teams explore ways to prevent or cure dementia, while others focus on improving quality of life for people living with dementia now.

"Through research we aim to identify causes of dementia, search for a potential cure, and discover ways to prevent or delay the illness and support people living with dementia today". Professor Craig Ritchie, SDRC
Research projects
Alzheimer Scotland is committed to supporting dementia research. We work closely with organisations and initiatives like the Scottish Dementia Working Group, the Dementia and Neurodegenerative Research Network, Join Dementia Research, as well as the University of the West of Scotland and the University of Edinburgh.
Find out more about dementia research.