Activities: a guide for carers of people with dementia
Overview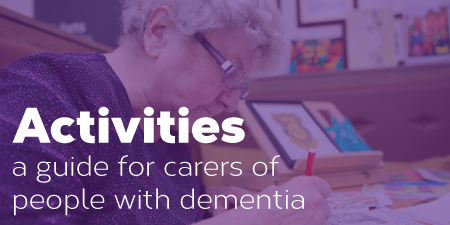 This booklet is for those who care for a person with dementia and would like suggestions and information on planning daily activities.
People with dementia should be supported to be independent for as long as possible. Being allowed to carry on with everyday activities will not only help the person hold on to these skills and encourage independence, but will allow they to feel able to contribute and know that the help is valued.
Carers often ask how they can help the person with dementia structure their day by including a variety of activities. This booklet aims to provide some practical ideas, and a range of hints and tips to be replicated when caring for a person with dementia.
More information can be found by clicking the below link: