Join Michelle to Challenge Dementia in 2017
Friday 6 January 2017
34 year old Michelle from Paisley is doing the London and Stirling marathons this year. She shares her emotional journey and explains why running was her saviour.
Looking back now, my mum had been showing signs of early onset dementia long before diagnosis.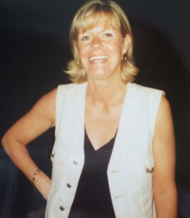 She was an intelligent, caring, brilliant woman in her late forties with a passion for music, travel, family, her career, and life in general.
She excelled at school and won the Dux Medal, before joining the army aged eighteen to become a translator based in Germany. She spoke German fluently and was quickly promoted to Corporal. After marrying my dad, she left the army in her mid twenties to have my brother and me.
When we were both of school age, she then moved into teaching as part of an Adult Literacy Programme before moving on to manage a local Estate Agency. It was here that she thrived, working daily with targets in a high pressure environment.
Years later, the debilitating illness began to take its toll. A long period of time being wrongly diagnosed was both distressing and frustrating for everyone involved. My mum, Caroline, was finally diagnosed in 2004 aged just 48.
We were not prepared for what was to follow. I often think how frightened she must have been coping with the unknown on a daily basis.
It hit me hard the day she called asking if she had taken her medication. It was my birthday as well as my brother's and my husband's so it was always a huge day for celebration. I was hoping for a nice birthday message or even an invite for dinner but she had no idea of the significance of the day. My heart broke but I did not remind her as I knew she would be so much more distressed than me if she realised that she had forgotten.

I attended weekly classes run by Alzheimer Scotland to help me understand the illness better and in turn, help my mum.
Finally, after a twelve year battle, I said goodbye to my beautiful mum on the 9th of November, just twenty days before her sixtieth birthday, after an eight day vigil at her bedside. Although, if truth be told; I had said goodbye to her a thousand times over throughout the years.
From the beginning, running has been my saviour. It helps with anger, sadness and a list of other emotions you encounter when watching a loved one suffer.
I began competing in races to raise funds for Alzheimer Scotland, the most recent being the Edinburgh Marathon. The support before and during the race was incredible. Everyone wearing the Alzheimer Scotland logo top on the day either high-fived me, ran next to me, shouted words of encouragement or even hugged me. We were like a family and I was completely overwhelmed. The feeling that I had that day was like no other. It was as if we all understood each other. I was sad, however, to notice how few runners for Alzheimer Scotland there were in comparison to other charities.
My ultimate dream would be to witness a sea of purple at every event I attend in the future, to be part of a colossal team, a purple army.
In turn, I'm sure the awareness and funds for this vital charity would increase dramatically, allowing them to continue their invaluable work. Work that has helped me and my family and so many other people cope with and manage dementia. Nobody should face this alone. The support this charity offers is indispensable.
I also dream of everyone unfortunate enough to be affected by dementia to feel the robust unity that I experience while running in an event and that they have something to rely on anytime and anywhere.
I used to run for me, now I run for my mum and everyone who has been affected by this illness, no matter how small.
I exhale the grief and inhale the love I have for her. My anger ends and an appreciation of life begins. I notice things and feel things that I never have before when I run.
When I am lethargic, I imagine her giving my back a gentle push and when I have no motivation, I hear her whisper encouraging words.
I've made many friendships through both my passion for running and this charity, some virtual.
So I ask you to join me, give it a try. You will absolutely surprise yourself and experience a sense of achievement that is indescribable.
I have never regretted a run, not ever, and as long as I have air in my lungs I don't suppose I ever will.
Feeling inspired? Join Michelle and let's Challenge Dementia together in 2017!