Ties That Bind: exploring early onset dementia at the Edinburgh Fringe
Tuesday 1 August 2017
Artistic Director at Skimstone Arts, Claire Webster Saaremets, tells us about their latest play, 'Ties That Bind', which explores the changing world of a character living in the first stages of early onset dementia.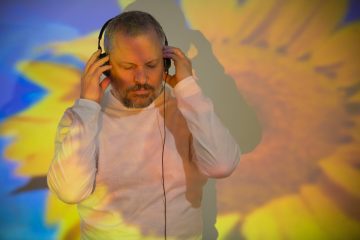 Can you tell us a bit about the creative process behind this show? How do you weave research-based content together with creative content?
The Ties that Bind came about as a response to the research from recent academic studies which found that people experiencing early on set dementia were being 'rejected' from social groupings. In other words, interest groups or friends were 'dropping away' or in some cases, asking people not to come anymore as there were 'a risk.'
We started the creative process behind this play by mapping out who we are connected to and why (loved ones, family members, friends, neighbours, interest partners, people running local amenities etc) We looked at what forms a relationship or tie to someone, and how these bonds can remain strong when someone experiences a strong change in who they are, as so often happens in people living with dementia. We also looked at metaphors and symbols of 'ties' and 'bonds'. This helped to generate imagery and sound ideas which later would be woven into the structure of the work, alongside props e.g. cables and leads, wool and conceptual ties of memory.
We decided not to go down the route of exploring spousal relationships as we had explored this in a previous production: Jack & Jill and the Red Post Box.
This time we focused on a sibling relationship and explored the complexity of shared family history and how this would be affected by the stories we had read in the research. For example, Paul (the main character) lives on his own and is diagnosed with early onset dementia. How does his sister Ali help him (or not!) to manage the changes in his day to day living, with their shared history fading in and out? We felt the dramatic tension here was really interesting and enabled us to create a piece that explores in the present time, how his bonds with friends, work colleagues and new opportunities could unravel, unfold or be tied in new ways.
Your central character, Paul, is still of working age. How is the theme of continuing to work and being an active and engaged person while living with dementia explored? What are the challenges and solutions?
This was quite a critical point for us to consider how someone could continue to work - or when was the point to leave/retire and find new ways of living and socialising when living with early on set dementia.
We collected some more real-life stories to help us to understand this. We spoke to a teacher who had parked in the wrong place at work, forgot to go to classes and blanked in one such class… she eventually had to leave work.
Her story, and others, were the inspiration for how Paul's world would shift when he struggles with the responsibilities that running a busy studio brings. How and why does this change happen and what replaces that network?
We wanted our theatre piece to explore possible challenges and indicate where solutions may open up new relationships. It was difficult to do this without being tokenistic - especially within a 55 min production!
I was fortunate enough to work with Professor Charlotte Clarke on the project. She invited me to a gathering of people in their 50s and 60s living with early onset dementia in Plymouth. The people in this group appeared independent and 'connected' … yet is this the case for most people across the UK?
We also considered the sensory changes that take place alongside memory loss. Julie Watson help us with this. This included movement sequences and motifs around stillness/ blanking. We considered what might or might not be happening in the brain, and we created visuals to suggest possibilities of fading within memory loss, and how someone would move when spatial perception is affected, how emotions e.g. anger/ frustration/ fear/ loss of confidence would affect the story and personal relationships with friends and family.
As a sound engineer, music is a key theme within this production. Why was this an important issue to explore?
Research has also shown that 'the power of music, especially singing, to unlock memories and kickstart the grey matter is an increasingly key feature of dementia care' (Age UK) however, again we wanted to create a more radical exploration of this through creating a character, Paul, where music was and still is, his life. Paul is a sound engineer, involved in recording and producing music. This enabled us to create original new music that reflected the wide variety of music genres that Paul would have been involved in producing. We explored how these will remain with him as part of his journey and how recording as a physical and shared procedure can still feature in his life. Songs, sound pieces, music compositions represent his relationship to the people and places he is connected to.
The play explores what enables people to release old friends and join new ones. Do you think these changes in relationships are more pronounced/accelerated when people are living with dementia?
There was a story in the research of a man with dementia who was part of a walking group. Eventually the group said to him that he had to stop coming and he was too much of a risk from falling. This story rang very deeply and we started to revisit what creates and threatens a friendship/ relationship. We began to create possible scenarios where some of Paul's friends found the apparent 'losing someone even though they're physically still there' too difficult. It was a challenge to create a piece that had the right balance of distress and hope.
What is the most important thing you want your audience to take away from seeing this play?
I am passionate about the creation of this piece and how it has evolved from critical research into a theatre production that seeks to create dialogue and empathy around all those affected by living with early onset dementia - including carers, family members, friends, society as a whole. Come and see 'Ties That Bind' and explore how we can continue to create ties that connect and give hope and confidence, purpose and pleasure, to those living with early onset dementia.