We Stitched the Pitch at Hampden Park!
Monday 10 June 2013
We did it! On Saturday 8 June, over 300 visitors and more than 100 volunteers witnessed the final stage of the unique Hampden Park Quilt Challenge, with quilts from across Scotland and around the world covering the pitch in a wonderful multi-coloured display.
The challenge grew out of a jokey remark a few years ago to our quilter-in-residence, Ann Hill, by Robert Craig, chairman of the Scottish Football Museum, that Ann could make a quilt big enough to cover the Hampden pitch. That got Ann thinking and, knowing she couldn't do it on her own, she sent out a plea for help to the quilting community who responded in style by creating more than 5,000 beautifully crafted quilts.
Our prayers for good weather were answered with glorious sunshine on the day - a bit of a challenge for all the volunteer quilt layers and packers in the heat - which helped show off the quilts beautifully and was a bonus for the visitors who were allowed to go down to the pitch to view the quilts at close quarters and to try to spot the ones some of them had made. Former Scotland team manager, Craig Brown, also came along to show his support.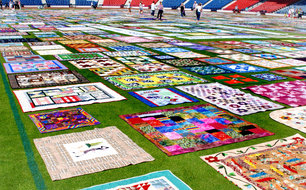 Most of the quilts are now available for sale, with some having been pre-purchased or earmarked for auction.
A letter from Ann herself, thanking everyone involved, can be read here.