Two Dementia Resource Centres will open in Ross-shire next week
Tuesday 23 June 2015
Two Alzheimer Scotland Dementia Resource Centres will open in Ross-shire next week.
A new resource centre has been created at Atholl Court in Dingwall and the existing Tain resource centre has now moved to the former Red Cross House in Victoria Road.
Both centres aim to provide a source of information, advice and support for people with dementia, their families and carers in the area.
The new Dingwall centre includes day care facilities, a private space where people visiting the centre can speak to staff and meeting facilities which are also available for hire. It has been refurbished to encompass many dementia-friendly features and is designed to offer practical examples of ideas which can help maintain independence for individuals and families living with dementia.
Karen Steel, policy and engagement manager for Alzheimer Scotland said: 'Having dedicated Dementia Resource Centres in both Dingwall and Tain will enable people to access support and information locally, speak to a Dementia Advisor, or take part in a wide range of activities – all under one roof. These centres will be a great resource for Ross-shire.'
She added: 'I would like to thank everyone for their help getting the Dingwall centre ready for the opening. We have received warm support from Dingwall Rotary, The Highland Dementia Working Group, NHS Highland, local volunteers, Ross County Football Club and so many more.'
Although the centres will be officially opened next week, they are already offering their full range of services.
Ailsa Johnston, support worker for Ross-shire Services, Alzheimer Scotland said: 'People with dementia who attend day care have been reviewing the new facilities in Dingwall and Tain over the last couple of weeks and the excitement of the groups has really made the transition an enjoyable and uplifting experience.
'It is great that we are increasing the services we offer in Ross-shire. The new centre in Dingwall and the move to a new property in Tain has been a long time in the planning and it is the icing on the cake for staff and service users who have been involved throughout the process.
'The new building in Victoria Road, Tain will also be more accessible to the public for information and support.'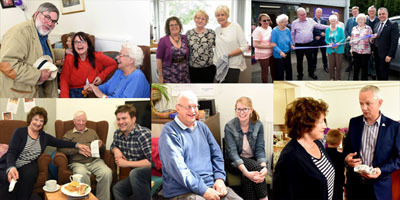 The Alzheimer Scotland Dementia Resource Centre in Dingwall will be officially opened on Tuesday June 30 by guest of honour Janet Bowen, Lord-Lieutenant, Ross and Cromarty incorporating Skye and Lochalsh. She will be joined by chief executive of Alzheimer Scotland Henry Simmons.
Karen Steel said: 'Mrs Bowen was actually part of the committee that designed and built the original Red Cross House in Tain in 1995. It was opened back then by Princess Alexandra, who was greeted by Lisa Nimmons from the Tain Red Cross Juniors. Twenty years later, Lisa will also be at the opening of our new resource centre in that same building! Her mother, Ailsa works for us in Ross-shire and has played a big part in preparing the move from Duthac House to Victoria Road in Tain. So when our chief executive Henry Simmons cuts the ribbon to open the Tain resource centre on Monday June 29, it will be a moment of real Ross-shire reminiscence.'