Giving Tuesday
Monday 28 November 2016
This Giving Tuesday we're raising awareness of the Alzheimer Scotland Dementia Helpline in the lead up to the festive season and we're asking YOU to support the vital lifeline with a donation.
John's family is affected by a rare inherited form of Alzheimer's. He told us how he has benefited from Alzheimer Scotland's Dementia Helpline, and the difference it has made to him.
John's family is affected by a rare inherited form of Alzheimer's. He told us how he has benefited from Alzheimer Scotland's Dementia Helpline, and the difference it has made to him.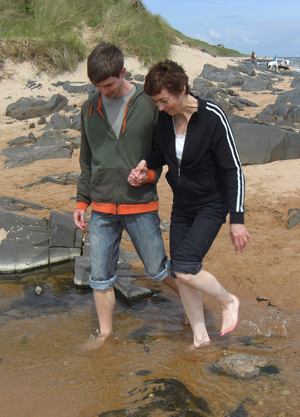 "My Alzheimer's story is quite an unusual one. We have one of the extremely rare inherited forms of Alzheimer's in our family – my grandfather was one of five siblings who developed the disease in their 40s or 50s. That meant that my mum – an only child – was at 50-50 risk of developing Alzheimer's at a similar age. Even though we always knew the risk, when mum started to show symptoms just after I had left for university, none of us really wanted to admit to it. Her personality seemed to change first of all, and then her memory of social events and the names of my friends. When the first diagnosis of Mild Cognitive Impairment came, it was devastating. I was living away from home, I was worried about supporting my dad, who still works full-time, worried about how quickly symptoms would go downhill, and selfishly worried about myself too. In the pit of despair, and with more than a few tears, I called the Dementia Helpline for the first time.
"I felt that I couldn't overburden my friends with this huge thing that was happening in my life – and men don't really talk about these things anyway! - but it is easy to feel isolated when you have to face something like this alone. It's so good to know that there is someone on the other end of the telephone who is happy to just listen, and understands just how horrible this disease can be. The long process of losing someone you love. Knowing that I'm now at risk of developing the disease too was scary at first, but being able to talk to someone at 'arm's length' gave me the confidence to think about dementia in a more positive light, and I'm much happier to talk out about the disease and spread the word – "we can all fight this together!". From being scared to even talk about it, I went to speaking on behalf of our family at the Alzheimer International conference in Toronto this year and have volunteered to be involved in research. Quite a turn-around!
"The second time I called the Helpline, I was looking for more practical tips. As mum has lost her use of language, and is prone to wandering around the house, it is sometimes difficult to do activities with her or engage her for long enough to feel like you've made a meaningful connection. The lady I spoke to on the Dementia Helpline suggested colouring, and after we spoke for a little while about my mum, we also thought of jigsaw puzzles as a possibility! The next time I visited mum, we put on some of her favourite music and finished a puzzle of Tobermory seafront together. She isn't able to do puzzles any more, but I have now got such a happy and positive memory of us enjoying some time together because of that. Thank you Dementia Helpline!"
What we are asking this Festive season
As the nights draw in, the shops fill with gifts, and the Christmas trees light up, many of us enjoy looking forward to a happy festive season with family and friends. Whether our highlight is the local Nativity play, visiting children or grandchildren, or simply enjoying a few hard-earned days off work, this is a season filled with celebration, relaxation and belonging.
But for those who live with dementia, the festive season can be difficult. The essential supports that might help a person with dementia to live at home and play a part in their community may not be available, for example: transport services may be reduced; supportive friends may go away for the holidays; community activities may stop over the season; support services may be reduced.
As well as this, we all know that family members, however much they love each other, can rub each other up the wrong way at Christmas, and the stress of living with dementia in the family, on top of other challenges during the holidays such as money worries, can create tension in the home.
Alzheimer Scotland believes that nobody should face dementia alone. For more than 25 years, there has been a voice on the end of the phone throughout the holidays, 24 hours a day, to listen and to support anyone who needs to call.
This has only been possible because of people like you, who have given generous donations that allow us to be there all day and all night, 365 days a year. Our supporters make it possible to give help and support to hundreds of people, who could be at the end of their tether, every Christmas night, and every other day and night the whole year round.
Please consider donating a gift to Alzheimer Scotland's Dementia Helpline this festive season – your priceless gift will help make sure nobody faces dementia alone this Christmas.