Every year up to 18,000 people in Scotland could develop dementia
Friday 24 March 2017
"I felt like the rug had been pulled from under my feet. I thought that all my independence and freedom would be stripped away from me."
Stewart, aged 57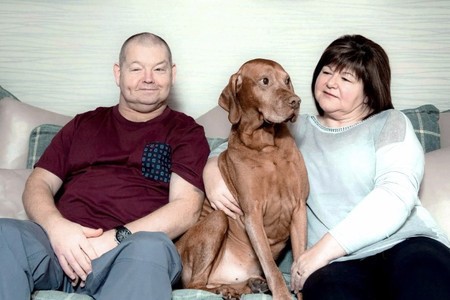 Stewart told us 'When I got the diagnosis I was just 51 and I really had no idea what dementia was. I was at that appointment alone. I should have been asked to bring someone with me to support me and make sure I was okay.'

"One day, I had a falling out with Megan because I was having a bad day. By coincidence, Lorna Hart, a colleague she knew from the hospital saw her and knew she'd been crying. Lorna asked Megan what was up and it all came out and Lorna said to my wife: "Why haven't you told me this? Did you know I work for Alzheimer Scotland now? We can do something to help you." And from that minute on I have never looked back."
Stewart
Without support, someone like Stewart could become isolated and vulnerable. With the right help from Alzheimer Scotland, Stewart and his wife Megan have been able to learn about dementia, meet friends in the same situation and continue doing the things that are important to them.
Will you consider giving a regular donation by Direct Debit so we can help as many people with dementia and their families as possible? You can choose the size and frequency of your donation and you can set up quickly and easily online. You can cancel any time, so you're always in control.


"Seven years on from my diagnosis and I'm still independent and living a very full life and Alzheimer Scotland have been a big part of that."
Stewart