Comic Craig Steps Out for National Tartan Day
Thursday 6 April 2017
To celebrate National Tartan Day (6th April) Comic Craig Hill is pictured rocking a unique hipster fit kilt, designed by Scotland's kilt maker to the stars Howie Nicholsby of 21st Century Kilts, to showcase the vibrant Alzheimer Scotland tartan.
The tartan design has been created to honour the millions of people with dementia worldwide and to raise vital funds to support people living with dementia across Scotland.
Craig Hill, said: "I was thrilled to be asked to support Alzheimer Scotland's beautiful new tartan for such a great cause! They've also done a great job of creating this fabulous kilt, which does more than just look and feel great, it's also helping to raise awareness and raise vital funds to support people living with dementia. You go guys!"
Introduced on World Alzheimer's Day with the help of Game of Thrones star Kate Dickie, the tartan design introduced just over six months ago was an instant hit. Demand for the unique tartan reached fever pitch over the festive months following the introduction of the vibrant tartan scarf. Starring in a poignant two minute online ad titled 'Tartan Christmas', the scarf sold out twice before Christmas Day and saw waiting lists from eager supporters keen to get their hands on the scarf . Celebrities were also proud to wear the tartan including the cast of BBC Scotland's Still Game, Scotland Manager Gordon Strachan and Scottish actor from Outlander fame, Grant O'Rourke.
This spring, the Alzheimer Scotland tartan range continues to be popular. A tartan garter has been added to the portfolio just in time for the wedding season and a lightweight, multifunctional headwear/neckwear piece is being created for the great Scottish outdoors. Browse the tartan collection from scarfs, to bonnie bunnets to braw bears online at www.alzscot.org/tartan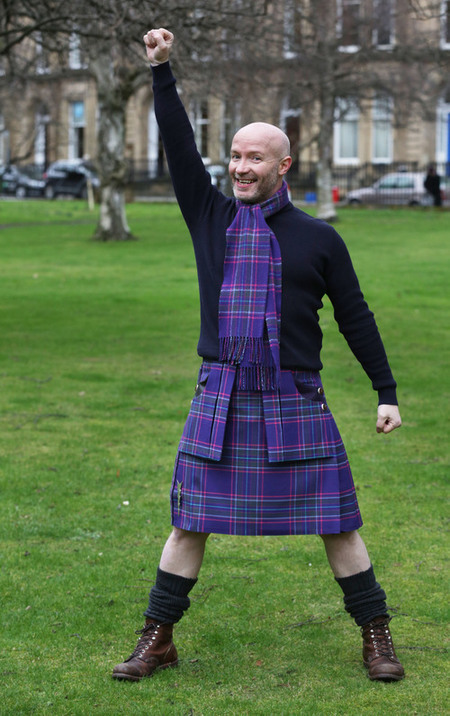 Walk the Kiltwalk in tartan
We've joined The Kiltwalk this year so why look out your best walking shoes and tartan and get walking to support dementia at the walks taking place across Scotland in Glasgow, Dundee, Edinburgh or Aberdeen. Visit the Kiltwalk official website at www.thekiltwalk.co.uk, sign up and select Alzheimer Scotland from the drop down charity list. For any questions regarding the walks please visit the Kiltwalk website.