National survey reveals Scots living with dementia have lost friends
Monday 29 May 2017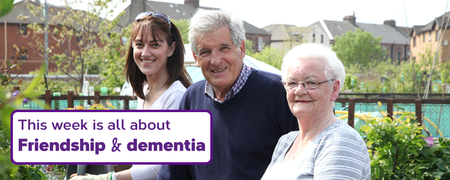 A new survey conducted by Alzheimer Scotland to mark Scotland's Dementia Awareness Week (29 May-4 June 2017) has revealed that people living with dementia and their carers across Scotland are experiencing significant loss of friendships and social connections and increasing isolation.
In a poll of more than 500 participants, the 'Friendship and Dementia' survey found that two out of three people living with dementia have lost friendships following their diagnosis (70%). The shocking findings show that more must be done to improve public understanding of and attitudes towards dementia, in order to help friendships adapt following a diagnosis and during the illness.
The survey also found that 60% of people living with dementia feel reluctant to attend social situations such as birthdays or weddings with family and friends. Respondents highlighted reasons including; "I don't like crowds or loud noise." "I'm embarrassed about my dementia." and "I feel frightened".
Of those surveyed, a worrying 91% of participants felt that the public did not know enough about dementia and what it is like to live with the illness. Although public awareness of dementia has improved greatly in recent years, public understanding of the illness and its wider symptoms remain limited. As well as memory problems, other less-well known but common symptoms of dementia include difficulties in concentrating, problems with language, issues with vision, disorientation, increased tiredness and struggling with familiar tasks such as using a bank card.
Jim Pearson, Director of Policy and Research, Alzheimer Scotland, said: "There has been much progress in recent years, but the results of our survey demonstrate that there is a great deal still to do to tackle the stigma associated with dementia.
"Sadly, losing friends is a familiar story that we hear from the people we support. With approximately 90,000 living with dementia in Scotland and the number expected to rise, more and more of us will at some point have friends and family who are living with dementia. This Dementia Awareness Week we are calling on Scotland to take action now, get informed and stand by their friends and family to make sure nobody faces dementia alone."
Anne McWhinnie, Dementia Friends Project Manager, added: "Our survey has revealed some heartbreaking findings, but it has also highlighted some key issues which we as a society must urgently address. A dementia diagnosis can turn someone's world upside down, so it's vital to stay in touch and feel comfortable in talking about the changes that it brings.
"Support your friend and others living with dementia all over Scotland by being part of our Dementia Friends initiative which aims to increase understanding of the condition, and of the small things everyone can do to help people living with dementia in their community. The most important way you can help is just to be a good friend and to support the friends and family living with dementia."
Dementia affects around 90,000 people across Scotland and by 2020 it is estimated that there will be over 1 million people living with the illness in the UK. Visit www.alzscot.org/daw2017 to find out how to take action for dementia this Dementia Awareness Week to support friendships.
Take action during Scotland's Dementia Awareness Week – simple steps:
Get informed about dementia and how it affects people. Sign up to become a Dementia Friend today at www.dementiafriendsscotland.org
Read Alzheimer Scotland's new leaflet Friendship & Dementia; Hints and tips on supporting friends with dementia. View online at www.alzscot.org/daw2017
Talk openly with your family and friends about dementia
Gather your friends together to hold a Tea & Blether, to help raise vital funds and awareness
If you have any questions about supporting friends and family living with dementia call Alzheimer Scotland's 24 Hour Helpline on 0808 808 3000 or visit the website at www.alzscot.org. Join the conversation on Twitter with @alzscot and #daw2017 and share your friendship stories.