Caledonia Social Care officially launch
Thursday 6 July 2017
Boasting an employee ownership model, the newly established social care provider takes forward ownership of Alzheimer Scotland's previous care at home services to support people living with dementia in the community. With a workforce of 150 employee owners, Caledonia Social Care now look ahead to an ambitious year ahead whilst providing an exceptional level of care to 480 clients.
The newly formed enterprise will focus on the provision of care at home support, including the provision of dementia specific services, alongside personal care to older people who have disabilities. Attended by employee owner representatives from CSC, the event was also attended by Alzheimer Scotland's Chief Executive, Henry Simmons and Alzheimer Scotland Convener, John Laurie and trustees.
Cutting the red ribbon with employees and stakeholders, Margaret Paterson, Managing Director of Caledonia Social Care, said:
"I am thrilled to officially celebrate the opening of Caledonia Social Care on Employee Ownership Day. Our dynamic employee-owned business model takes forward ownership of many of Alzheimer Scotland's previous care at home services to support people living with dementia in the community and our staff will be at the very heart of everything we do. As well as delivering care at home services, we also offer personalised care to older and physically disabled people to help them remain in their own homes and to live as independent a life as possible for as long as possible.As owners, employees have a say in how the business is run, and clients and their families are reassured that the business will remain rooted in the area and be run for the benefit of local people. We move forward with a clear business plans and we thank everything for their support and guidance to date."
Henry Simmons, Alzheimer Scotland, Chief Executive, added:
"Following months of preparations, I believe that Caledonia Social Care has a bright future ahead in providing high-quality dementia and more generic home-care services. The employee ownership model we adopted in this new venture will bring many benefits to all staff ensuring that they have an effective voice throughout the organisation. I am proud of what we have all achieved to maintain high quality support for people living with dementia and vulnerable people in the community and I wish the whole team the very best of luck moving forward."
Carole Park, Administrator Coordinator, from Caledonia Social Care, said:
"I am looking forward to playing a positive role in the future direction of Caledonia Social Care by being involved in the decisions our company makes along the way. Celebrating our official opening on EO Day gave us the chance to come together to look ahead and also help raise awareness of the employee owned sector along with thousands of other businesses who are flourishing with the benefits of employee ownership."
Sarah Deas, director of Co-operative Development Scotland (CDS), said:
"Over a ten year period we aspire to achieve a tenfold increase in employee ownership in Scotland, and with 16,000 employers in Scotland looking to transfer ownership in the next five years, we expect take up to continue accelerating."
Alzheimer Scotland will initially be the main investor but plans to hand it over fully to the newly formed enterprise in the future.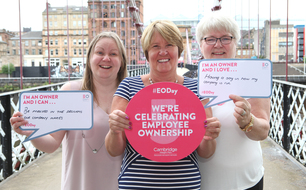 Providing a flexible and personalised home support service throughout central Scotland, Caledonia Social Care operate across Falkirk, Stirling and Clackmannanshire, Lanarkshire, East & West Dunbartonshire, Glasgow, Renfrewshire, East Renfrewshire and Argyll & Bute. For further information about the services available please contact Caledonia Social Care direct on Tel: 03300 537 130.