The winning handbook announced
Tuesday 11 July 2017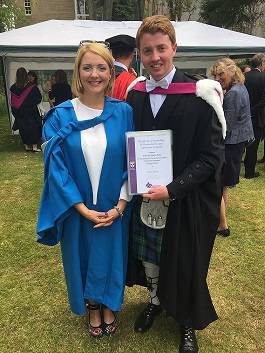 Alzheimer Scotland has again teamed up with Dr Maggie Ellis of the University of St Andrews to sponsor the 'The Edie Adams Prize for Excellence in Dementia Information and Support Literature'. Dr Ellis runs a Senior Honours module in the 'Psychology of Dementia' at the School of Psychology and Neuroscience.
The main assessment of which involves creating an evidence-based advice handbook with sections aimed at individuals living with dementia, their family members and professional caregivers. Dr Ellis collaborates with Alzheimer Scotland to set up a judging panel composed of individuals living with dementia, their family members and professional carers in several locations across the country.
This year, the Edie Adams prize was awarded to Andrew Christie for his handbook entitled, 'Dealing with Dementia'. Andrew said,
"As the winner of the Edie Adam Prize, I would like to express my sincere appreciation and gratitude for the generosity shown. The task of creating a handbook for those living with dementia, their family members and caregivers was such a rewarding piece of coursework to work on, and I am so proud to have produced something that could provide insight and support for those dealing with dementia. In addition to the time and care in running this competition and choosing a winner, I would like to thank you for the donation of the monetary prize. I am intending to use this towards travelling in the summer, before I begin a graduate job in the autumn."
Dr Ellis added,
"I am extremely grateful to Alzheimer Scotland for sponsoring the prize and to the judging panel for taking the time to comment on the entries. The students work so hard on these Handbooks and it's great to see that people can make real use of this work."
Please download the winning handbook here.