Proud to be at Pride
Thursday 13 July 2017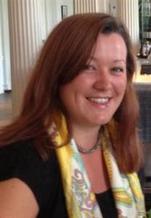 Jennifer Hall, Training Officer at Alzheimer Scotland, tells us why she's proud to work for Alzheimer Scotland.
As an out and proud lesbian, I often consider how lucky I am to be living in a time where the fight for LGBT equality in Scotland has resulted in significant legislative change that means I can now marry the woman I love; I can use the law to challenge any homophobic abuse or discrimination that may happen to me because of my sexual orientation; and I am legally entitle to start a family where both my partner Joolz and I would be the child's recognised legal parent. This is amazing progress but we still have a long way to go before LGBT people are truly accepted without exception.
What must it feel like to be LGBT and be faced with a diagnosis of dementia? We already know that LGBT people are a significant minority within the 90,000 people living with dementia in Scotland. But where are they, who are they and what are their experiences? LGBT people are often described as 'the invisible population' within health and social care as we are less likely to seek support when needed because of stigma, perceptions, attitudes, and not knowing what services exist that will understand the additional challenges and barriers often encountered by LGBT people.
In my work with Alzheimer Scotland, I'm keen to explore how we can become more visibly welcoming to lesbian, gay, bisexual and transgender (LGBT) people living with dementia.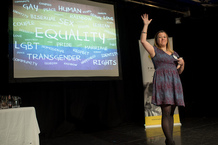 Last year, we set up the LGBT Champions network for staff and volunteers across the organisation. Our LGBT Champions hope to be role models in the organisation: championing positive behaviours, attitudes, terminology and challenging assumptions made about members of the LGBT community. Our ultimate goal is to create a culture of comfort and safety, not just for our workforce to be their true authentic self, but for that to extend to LGBT people we serve in communities across Scotland.
We've also been engaging with LGBT organisations like Stonewall, the Terrance Higgins Trust and LGBT Health & Wellbeing we aim to put in place training and information for our staff and volunteers to enhance our practice and engagement.
We are in the midst of Pride season across the UK just now where LGBT people and our allies are coming together to celebrate their individuality and continue to fight for equality and social justice. LGBT rights ARE human rights and as an organisation that employs a human rights based approach I think it is really important that Alzheimer Scotland become more visible to the LGBT community and we continue to develop our awareness and understanding of how best to support LGBT people living with dementia. That is why I will be marching with Alzheimer Scotland in Pride Glasgow this year, to show our support, stand in solidarity and to work towards ensuring that nobody goes through dementia alone.
To find out more about the work that is going on in relation to our LGBT work, or volunteer with Alzheimer Scotland at Pride Glasgow, please contact Jennifer Hall.