Alzheimer Scotland Occupational Therapy interns
Thursday 7 September 2017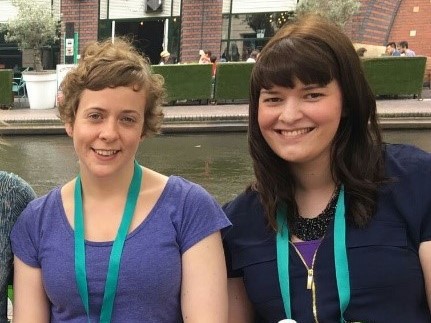 This time last year we were just finishing our summer as occupational therapy interns with Alzheimer Scotland. The internship was a busy 12 week period in which we worked on a range of projects and met lots of wonderful and interesting people.
Earlier this year we submitted abstracts to the Royal College of Occupational Therapy to display some of this work on posters at their annual conference. We were both fortunate to be accepted to display posters and Marianne was also selected to take part in a facilitated poster discussion. The conference took place in Birmingham on the 19th and 20th June with over 1500 delegates.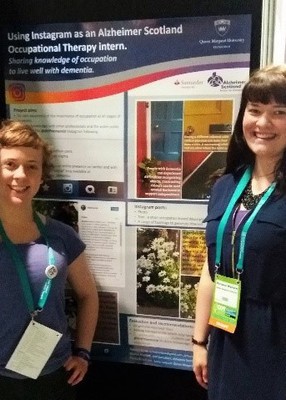 Attending the conference gave us lots of opportunities to speak with many occupational therapists from across the UK and further afield. We stood near our posters in between conference sessions so that we were able to chat to people and answer questions. People were very interested to hear about our posters and to talk about creative ways of understanding occupation and sharing information, especially using social media as this was a theme in both of our posters.
Rachel's poster provided a summary of the @AHPdementia Instagram project which aimed to share knowledge and raise awareness of occupation, health and wellbeing over the course of dementia. Rachel posted her own photos on @AHPdementia Instagram with information about occupation and tips for living well with dementia. This is a project that the interns in 2017 have developed further. Whilst Marianne's poster summarised her exploration of capturing meaningful occupation in photographs, which helped to inform one of our joint projects during the internship. Marianne took photos over the course of a day to document being an occupational therapy intern and to think about what is important to her.
People were also very interested to learn more about the internships in general and we were very happy to talk about our experiences from Alzheimer Scotland and working with the Scottish Dementia Working Group. We had a very enjoyable two days at the conference hearing from lots of different speakers and talking to people about our own work. We hope that people enjoyed seeing our posters and hearing about the Alzheimer Scotland occupational therapy internships. We also hope that this year's interns have had a great experience and look forward to hearing about their projects too.
Have you done any work that you could share at a conference?You can email Rachel Bew @RachelB_OT or Marainne Wallace @MWallaceOT with your stories
And finally, let's keep talking about dementia
Thank you for supporting our recent blogs by our occupational therapy interns and AHP volunteers, we hope you enjoyed reading them. Let's Talk about Dementia, is a blog hosted and supported by Alzheimer Scotland and led by allied health professional colleagues.
Let's Talk about Dementia aims to share the work and practice of the allied health professionals in relation to dementia care. It aims to offer advice for people living with dementia, their carers, partners and families – focusing on topics that range from diet and physical activity, to keeping engaged with your community or remaining at home for as long as you would like. This blog can also be a source of information for other health and social care professional colleagues.
Let's Talk about Dementia will:
Cover a range of topics and offer practical ideas, hint and tips
Share allied health professionals' knowledge and expertise
Share links to useful resources
Share the work of Alzheimer Scotland
Share resources that you may not be aware of
Allow you to engage with us, share resources and discuss issues.
What else would you like to see posted in our blog posts? We would love to hear from you.