Alzheimer Scotland sets out new allied health professionals framework
Monday 25 September 2017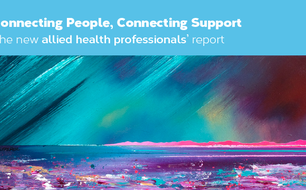 To help improve the lives of people with dementia and those caring for them, a new framework has been created to help bolster the vital skills and education of Scotland's allied health professionals (AHPs) across the health and social care sector as the number of people with dementia rises.
Developed through collaborative working with the Scottish Government, the allied health professional community and the experiences of people living with dementia, the newly created 'Connecting People, Connecting Support' framework features as one of the key commitments outlined in Scotland's third national dementia strategy (2017-2020) and will now be implemented by Alzheimer Scotland's national AHP Consultant in tandem with the newly formed Alzheimer Scotland AHP Dementia Forum and other key stakeholders.

The new evidence informed policy with a foreword from the Minster for Mental Health was launched today (Monday, September 25) at Alzheimer Scotland's national office in Edinburgh. The celebration and blether event was welcomed by Jacqui Lunday-Johnstone, Chief Health Professions Officer from the Scottish Government, Henry Simmons, Chief Executive of Alzheimer Scotland, alongside representatives from the Scottish Dementia Working Group and key stakeholders.
Download your copy of the report here
Allied health professionals are a distinct group of health professionals who apply their specific expertise to improve health, prevent illness, diagnose, treat and rehabilitate people of all ages and conditions working across all sectors and specialities. This new framework aims to deliver a more unified approach to dementia care by delivering the right care, in the right place, at the right time and by improving the overall experiences of lives of people with dementia.

Speaking at the 'Connecting People, Connecting Support' celebration launch event, Jacqui Lunday-Johnstone, Chief Health Professions Officer, Scottish Government, said: "The launch of our new allied health profession policy is an important step forward and I would like to extend my thanks for all the work completed to help us reach this stage.
"Connecting People, Connecting Support is not only the first policy of its kind for Scotland, it presents all AHPs, regardless of profession or service setting, with a great opportunity to realise their full skill-sets and work in new ways to deliver support and enablement for people with dementia."
Henry Simmons, Alzheimer Scotland, Chief Executive, commented: "Today's event is a celebration of all the hard work from everyone involved to date and of the successful collaborative working that has led us to this point. The new commitments as outlined in Scotland's progressive and ambitious third national dementia strategy build on existing guarantees and take us closer to delivering a high quality, person centred service for people with dementia and their families, from the point of diagnosis to the end of life. Going forward we hope that enter into a new chapter that reflects a new synergy between the world of allied health professionals and their expertise and the lives of people with dementia."
Download your copy of the report here
Elaine Hunter, National Allied Health Professions Consultant from Alzheimer Scotland, added: "I am delighted and honoured to be launching our first AHP dementia policy outlining our contribution to the transformation in services across Scotland. Today's celebration event offered us the opportunity to thank everyone who has supported the writing on this document which aims to help make a positive different to lives of people living with dementia."
If you would like to download a copy of 'Connecting People, Connecting Support' – transforming the allied health professionals' contribution to supporting people living with dementia in Scotland, 2017-2020'
There are approximately 90,000 people living with dementia in Scotland and by 2020 it is estimated that there will be over 1 million people living with the illness in the UK. If you have any questions about dementia and of the services available in your area call Alzheimer Scotland's 24 Hour Helpline on 0808 808 3000 or visit the website at www.alzscot.org