Prof. Frank Gunn-Moore to Headline Alzheimer Scotland Christmas Event
Wednesday 25 October 2017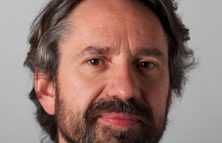 Professor Frank Gunn-Moore, Director of Research for the School of Biology, University of St Andrews, will take centre stage at Alzheimer Scotland's Christmas Lecture at The Hub in Edinburgh on Thursday 14 December, 4.00pm-6.30pm.
The leading dementia research expert who has made major discoveries in understanding the early stages of Alzheimer's disease by pioneering new models and identifying therapeutic targets for the early stages of the illness, will open the annual lecture with the question; 'Why is it that only humans get dementia?' and will share findings of his research into the development and survival of mammalian neurons.

The lecture event will offer attendees insights into Professor Gunn-Moore's current research from his own laboratories, which uses interdisciplinary research to try to understand the disease. He will show that by using this broad approach to dementia research, and looking at physics and chemistry, as well as biology, this can lead to some interesting and novel ideas, which include answering of this lecture's headline question.
Professor Gunn-Moore, commented: "I am honoured to be invited to deliver the Alzheimer Scotland annual Christmas lecture and I am looking forward to sharing my latest research as well as exploring new ideas and approaches as we try to further understand and treat Alzheimer's disease.
Much of the work I am involved with combines true interdisciplinary research where the three pillars of science: biology, chemistry and physics can all be used to try and understand this disease. This viewpoint also requires new ways for researchers to work together, and despite what you might expect, a good dose of luck! The hardest questions to answer in science are always the simplest..
Henry Simmons, Chief Executive of Alzheimer Scotland, added: "We are really pleased to welcome Professor Frank Gunn-Moore as our guest presenter to this year's Christmas lecture. Scotland occupies an important position as a recognised hub of global dementia research and this event is a great opportunity to hear about an exciting example of this work. It is vital that we develop a better understanding of dementia, not only so we can work towards improved treatments and ultimately prevention or a cure, but so we can improve the support we can offer to people living with the illness now.
"Dementia research is fast-moving; it needs to be and it requires significant funding to maintain and grow its breadth and scope. I am immensely proud that we can stage this event with one of Scotland's leading figures in dementia research."
The Alzheimer Scotland Christmas lecture event is open to everyone with an interest in dementia including researchers, health and care professionals, people living with dementia, their family and carers. Tickets are on sale now priced from £5 to £15. For further information and to book your place before 3rd December visit https://www.alzscot.org/xmas_lecture
Dementia is the biggest health and social care challenge faced by society today. There are over 90,000 people living with dementia in Scotland and by the year 2020 there will be more than 1 million people living with dementia in the UK. Alzheimer Scotland is passionate that nobody should face dementia alone.