Our Christmas TV Stars
Thursday 16 November 2017
'I'm Still Me' - that's what Archie, Helen, Henry and Stewart, the faces of our winter TV campaign, are telling us this Christmas.
Our funny, kind, mischievous and determined characters are great ambassadors for people living with dementia across Scotland.
Click on the links below to find out more about their stories and donate to help Alzheimer Scotland make sure nobody faces dementia alone in Scotland.
Meet Archie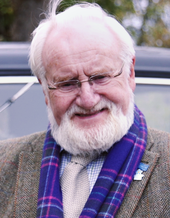 Text ARCHIE to 70140 to donate £5 to Alzheimer Scotland**
Everyone who meets Archie can't fail to be charmed by his vivacious personality, warmth and humour. His outgoing character and zest for life are infectious as his determination to do as much as he can to help others facing challenges in their lives whether it's dementia, homelessness or loneliness. Most importantly Archie is an amazing ambassador for people living with dementia within his own community and beyond and is passionate about reducing the stigma surrounding the illness.
Alzheimer Scotland believes that staying connected to your community is hugely beneficial in living well with dementia.
Meet Helen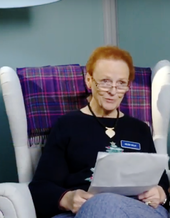 Text HELEN to 70140 to donate £5 to Alzheimer Scotland**
Helen's smile could light up a room. When you meet Helen you get wrapped up in her warm and mischievous character and feel instantly at ease. Helen is a family girl through and through and is loved by her many family members, friends and peers. She's a shining example of how being among friends and part of something can really help you overcome your personal challenges. Helen is a great friend to many and is passionate about getting involved and showing others the importance of peer support.
Alzheimer Scotland believes that peer support is hugely beneficial in living well with dementia.
Meet Henry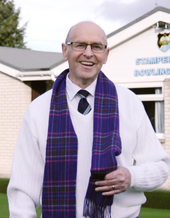 Text HENRY to 70140 to donate £5 to Alzheimer Scotland**
Henry leaves a lasting and meaningful impression with everyone he meets. His gentle words, kind character, sincerity and understated presence leave you in no doubt that this is a man of substance. Henry retired from the Police service after serving 30 years and since receiving his delayed diagnosis of dementia in an unsupportive manner, Henry has been an advocate for the rights and needs of people living with dementia, their family and carers. He has also been an advocate of never giving up and doing everything on your bucket list!
Alzheimer Scotland believes that with the right support in place people can and should continue to live well with dementia in their own homes and communities for as long as possible.
Meet Stewart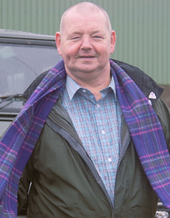 Text STEWART to 70140 to donate £5 to Alzheimer Scotland**
Stewart has a big personality, a can do attitude and is an active ambassador for the Dementia Friends Scotland programme. When he's not enjoying his off-road hobby he can often be found giving talks to workplace organisations, schools and groups to help reduce the myths, misconceptions and stigma surrounding dementia. His positive attitude is inspiring.
The message Stewart wants to get across is that younger adults can get dementia too, and it's vital to diagnose and treat the illness early. Stewart also wants to encourage employers to become 'dementia friendly' and be supportive of staff, family of staff and customers alike who may be affected by dementia.
** Text costs £5 plus network charge. Alzheimer Scotland receives 100% of your donation. Obtain bill payer's permission. Customer care 0131 243 1453. Charity No SC022315