Scottish Cabinet members become Dementia Friends
Wednesday 15 November 2017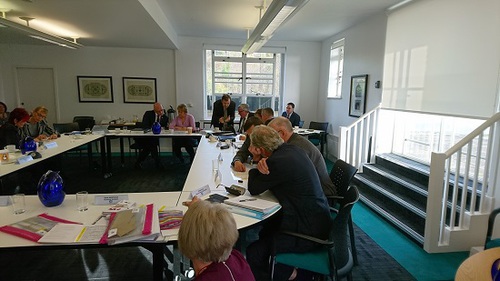 Scottish Cabinet members took part in a dementia awareness and information session this week to help support the urgent challenge of dementia.
Hosted by Deputy First Minister, John Swinney, cabinet members have become Dementia Friends as part of an initiative run by Alzheimer Scotland.
Staged at St Andrew's House, the information session offered all Cabinet Secretaries a greater understanding of dementia and of the small things you can do to make a big difference to help people living with the condition.

With over 48,000 Dementia Friends in Scotland, the ambitious initiative aims to help create communities where people living with dementia feel more understood and included as well as challenging the stigma of the condition.

Scotland's Health Secretary, Shona Robison, commented: "I am delighted that members of the Scottish Cabinet were able to demonstrate their support for Alzheimer Scotland's Dementia Friends initiative by attending the awareness-raising session immediately after a cabinet meeting.
"This highlights the importance that the Scottish Government attaches to improving the lives of people living with dementia. Anyone can be a Dementia Friend - it's about understanding a little more about dementia and the small things we can all do to help people with the condition."
Anna Devine, Director of Fundraising and Marketing at Alzheimer Scotland, said: "We are thrilled that Scottish Cabinet members have taken part in our Dementia Friends programme and that they have committed to help create communities where people living with dementia feel more understood and included.

"Over three quarters of people in Scotland know someone who has the illness, or who cares for someone with dementia. It is our aim to put dementia firmly at the heart of our communities and to make sure that nobody faces the illness alone. The Dementia Friends initiative continues to gather pace with more and more individuals, businesses and organisations taking part to tackle the stigma of dementia and support an inclusive society where people understand more about dementia and turn this understanding into positive actions, however small."

Anyone can become a Dementia Friend, to find out how to book a Dementia Friends Scotland learning session email [email protected] or watch a section of short awareness videos online at www.dementiafriendsscotland.org
Dementia is the biggest health and social care challenge faced by society today. There are approximately 90,000 people living with dementia in Scotland and by the year 2020 there will be more than 1 million people living with dementia in the UK. Alzheimer Scotland is passionate that nobody should face dementia alone. For more information about Alzheimer Scotland about dementia and of the services available in your area call Alzheimer Scotland's 24 Helpline on 0808 808 3000 or visit the website at www.alzscot.org.