Purple Alert
Monday 4 December 2017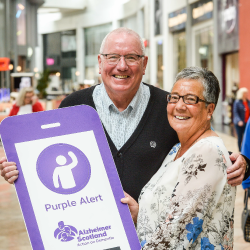 Staying involved and independent within a community is very important for the wellbeing of people with dementia. However, this freedom sometimes comes with risks. Bustling high streets, shopping centres, parks and street festivals can quickly become overwhelming for some people with dementia and they might want to get away from the high noise levels or overcrowding. That's why we launched the Purple Alert – a free app which notifies members of the community that a person with dementia has lost their way nearby.
We spoke to Ann and Hugh from Pollok about their experience of being separated in the busy Silverburn shopping centre and how the new Purple Alert app could have helped them.
Sitting side-by-side in their cosy living room, Hugh and Ann are a picture of happiness. Their 51-year-long marriage has been a close partnership – full of fun and family. Four years ago, Hugh was diagnosed with dementia but they're making sure it doesn't stop them from getting on with life and doing the things they enjoy.
Hugh and Ann are an outgoing pair who enjoy getting out and about. One day, they were visiting the local shopping centre when they got separated. Ann explains: "We were in Silverburn and Hugh for some reason took the huff and said 'Why am I in this shop?' and walked away. By the time I got downstairs to get him, I couldn't find him and I thought 'Where could he be?'"
Anyone who has been separated from a family member or friend in a shopping centre will know how confusing the experience can be. Should you stay put and hopefully spot them on their way past? Or should you search for them and risk missing each other in the process?
It turned out Hugh hadn't gone far at first. He tells us:
"I initially went into another shop but I wasn't sure if I'd missed Ann and she came out, didn't see me and took the bus home. I decided to walk home because I didn't have my bus pass or money on me."
When they couldn't find each other, both Ann and Hugh independently decided to return home. Thankfully, they both made the same decision and were reunited after a very worrying couple of hours. However, the incident left both Ann and Hugh shaken. Ann explained: "Hugh was sick that whole night. He came down the stairs and said: 'I should never have done that, should I?' and I said: 'No, you shouldn't have.'"
If they ever find themselves in similar circumstances again, Ann thinks that Purple Alert will reassure her that people are looking for Hugh and that he will be found quickly. "It would have been terrific that day if we'd had Purple Alert because I wouldn't have worried as much. It's a great thing – as long as people sign up to it."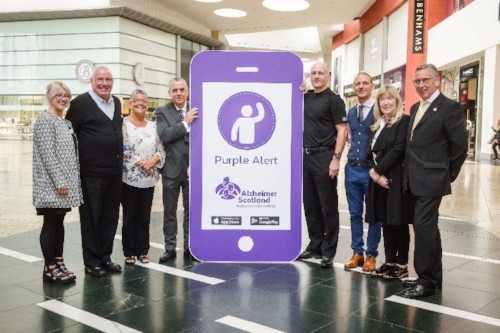 Ann is right. For Purple Alert to really make a difference, people need to download the app. As more people sign up, there will be more eyes and ears on the ground looking if someone with dementia goes missing.
Karen Lau is another carer who thinks Purple Alert will be a useful tool to help find people with dementia who are lost. Karen said: "When I was young we lived in the tenements. You couldn't go anywhere, or do anything without someone knowing. Everyone looked out for each other. I think this app is the modern-day equivalent."
Alzheimer Scotland has developed this app with the help of people living with dementia and their carers; Police Scotland; and Health and Social Care providers. To support people living with dementia in your area, join the Purple Alert community and download the app for free today.