Want to apply for a dementia assistance dog?
Tuesday 12 December 2017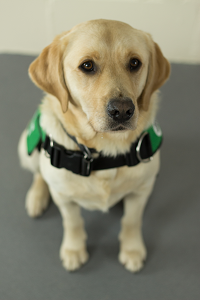 Our clever canines are ready to transform the lives of people with dementia.
They can carry out an array of tasks for people living with dementia, from retrieving medication to helping wake someone up and get dressed. The Dementia Dog project team is now keen to hear from people who meet their initial criteria and may be interested in applying for one of these talented pooches.
Talented duo - Lenny and Hope - will be the next two Labradors to complete their training next spring, with the team hoping to place them in the Ayrshire area. Already proficient in skills such as opening and closing doors, fetching the mail and removing items of clothing they are now finessing skills specific to helping someone with dementia such as fetching a medication pouch, walking on a dual lead and providing comforting head rests to help reduce anxiety.
Each assistance dog undergoes two years of dedicated training, learning skills to help reinforce routine at home, be a social connector out in the community and an emotional anchor for someone with dementia and their carer. The dogs commence their training at just 8 weeks old, spending their first year of socialisation and early training at Dogs for Good's charity base in Oxfordshire, before travelling up to the Dementia Dog team to complete the final stages of their advanced training.
Here, their training is completed with the help of inmates at the project's operational base at HMP Castle Huntly open prison near Dundee, enabling men in custody to develop employability skills and build a non-criminal identity to help reduce risks of future re-offending while also making a significant contribution back into society through the provision of trained dementia assistance dogs.
Project manager Fiona Corner says "We have just recently placed two dementia assistance dogs and already we are seeing the myriad of ways they are helping their new owners on a daily basis. We are now keen to hear from other families who would like to apply for one of these specially trained dogs.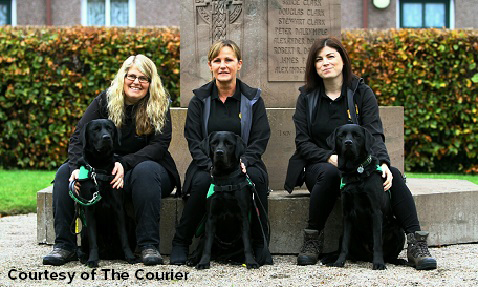 "For this Scotland-based pilot, the type of people we are ideally looking for to register interest for these next dogs would be based in the Ayrshire area and still living at home, where one person has either recently received a diagnosis of dementia or still be in the early stages, and is living full-time with their carer. Also to have a fenced garden and love dogs.
We also welcome interest from other parts of mainland Scotland that are outwith Ayrshire should they like to register interest for future dementia assistance dogs that will be available later in 2018. Unfortunately with the project still at a small pilot scale, we are unable to consider applicants that live outside Scotland.
Fiona adds, "You don't need to have previously owned a dog in order to apply and these dogs are provided completely free of charge with all support and training provided through the Dementia Dog project team".
Over the next few years, thanks to funding from the Life Changes Trust, the Dementia Dog team will be training a further five assistance dogs.
Anyone who fits this criteria and would like to register their interest, please contact the Dementia Dog Project team at [email protected] to request an Enquiry Form.