A tribute to Dementia Friends Ambassador, Stewart Black
Friday 9 February 2018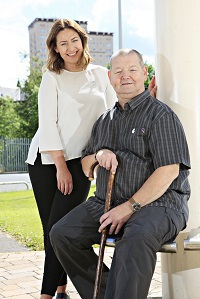 We're deeply saddened to hear the news that Stewart Black, our much-loved Dementia Friends Ambassador, has passed away.
Stewart's larger than life personality and down to earth nature touched the lives of many of our staff, supporters and partners. Everyone Stewart spoke to came away with a smile on their face, so he was an obvious choice for us to feature in our winter TV adverts, over Christmas.
Stewart spent countless hours speaking to schools and businesses about living with dementia and how communities can support the people in their local area by becoming dementia friendly. We've been told by so many of our supporters that his can-do attitude, strength and the way he approached all aspects of his life dramatically changed their perceptions of what it means to live with dementia.
Our thoughts are with Stewart's family and friends – we wanted to share some of his words about dementia: "Often the small things can really help and mean a lot to people living with the illness. I know from my own experience that when someone takes the time to speak clearly, it does help when I'm out and about shopping. I'd encourage everyone to take the time to become a Dementia Friend, it doesn't cost anything and it makes a huge difference to people's lives."
National Dementia Friends Programme Manager Anne McWhinnie said: "Stewart was an outstanding ambassador for the Dementia Friends programme and it was my honour to get to know him both professionally and personally over the years.
"He gave up a huge amount of his own personal time to ensure that people living with dementia had a voice and was always willing to go the extra mile. Stewart was very passionate in ensuring that businesses had better insight into the challenges that people living with dementia may face and how best to support them.
"Stewart's vision was to encourage the use of positive language when talking about dementia and was an excellent role model – everyone who met him immediately felt at ease in his company thanks to his warm and good-humoured nature. They didn't see dementia, they saw Stewart, a person with dementia who never let it define him. Stewart had such a vibrant and generous spirit. He lived life to the full and he will be sorely missed."
Marc Griffin from Sky TV's Dunfermline branch met Stewart during one of his Dementia Friends sessions, "In my 15 years at Sky I honestly can't think of any visitor who has left such an impression on me or my team. We all were so touched by his passion for Satellite Television and the Gadgets we have, in particular our giant Plasma TV, which I believe left him speechless. Stewart's personality combined with his passion is inspirational, he is truly an ambassador for all those living with dementia."
Stewart will be deeply missed across the Alzheimer Scotland community and by all those who he has helped to support and inspire over the past several years. We send our heartfelt thoughts to Stewart's family at this time as we take a moment to reflect on Stewart's life and legacy. If you have any questions about dementia and of the services available in your area call Alzheimer Scotland's 24 Hour Helpline on 0808 808 3000 or visit the website at www.alzscot.org