Amazon Smile makes us smile
Thursday 12 April 2018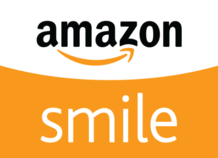 Amazon Smile is a new way to make a charity donation while you shop, and as of this month Amazon shoppers can now nominate Alzheimer Scotland as their chosen charity.
Instead of visiting the normal Amazon UK website, customers can visit the special smile.amazon.co.uk address and select Alzheimer Scotland as their chosen charity, and then just shop as normal. The Amazon Smile Foundation will donate 0.5% of the price of all eligible purchases.
You only need to nominate your chosen charity the first time you use the site, and it will be remembered on future visits.
This is a really easy way for supporters to make a donation to Alzheimer Scotland when making planned purchases.
So, if you're an Amazon shopper, remember to visit smile.amazon.co.uk and select Alzheimer Scotland the next time you're shopping.
Also don't forget to help us spread the word to anyone you know who is looking to do their bit to help Alzheimer Scotland make sure nobody faces dementia alone.
Find out about more ways in which people can support our work.