Award-winning partnership with HMP Shotts
Monday 30 April 2018
By Lorna Hart-Thomson, Dementia Advisor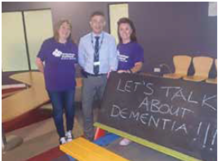 In 2016 we were contacted by HMP Shotts, a maximum-security prison in Scotland, and asked to talk to the staff and prisoners about dementia. The number of older people and people with dementia in prisons is growing rapidly and significantly, and this presents challenges in providing appropriate care. Compared with the rest of the population, prisoners have a higher rate of dementia risk factors such as head injury, smoking, drug and alcohol misuse, and low educational attainment. However there has been very little research into dementia in prison. This means that we do not know how many people are living with dementia in prison, and we also know very little about the experience of living with dementia in prison.
The innovative partnership between HMP Shotts and Alzheimer Scotland began as a pilot project, and was the first of its kind in Scotland. We initially engaged with 13 prisoners through a dementia awareness session and 16 staff through a Dementia Friends session. We thought that this approach would allow us to see if there was a need for dementia awareness in prisons. From the first session it was evident there very much was a need. We met with a man who had been diagnosed before he was convicted who said "Life within prison is far less stressful, outside I was stressed and life was difficult. There were lots of decisions I could not make due to my dementia, and my memory was really poor. In prison I do not have to think. I get told when to get up, when to work and when my meals are. It's easier in here." Another man whose gran has dementia asked "How do I tell my gran I am in here? She thinks I am 14 and have not returned from school. She can't visit anymore and cries on the phone." This told us that not only did we need to engage with prisoners but that it was essential to link with families as well.
From these two case studies alone, we felt it was paramount to continue the partnership. We devised an annual work plan for 2016/2017. This would enable us to work with 'hard to reach' groups, allowing dementia awareness to reach all. To date we have engaged with over 300 prisoners, over 60 staff and over 100 family members through one-to-one discussions, group work and attending visits with the Alzheimer Scotland Memory Bus. One staff member said, "I know you are here primarily for prisoners, but the staff are ageing too, I'm worried about myself." We are delighted to have won the Scottish Dementia Award 2017 for Most Innovative Partnership.
This project has allowed us to explore dementia friendly environments and what this means for prisons. Due to the success of this work, the Scottish Prison Service are now working with us to provide Dementia Friends to staff in all prisons.