Dementia Dog Duo Ready to Start Work
Monday 14 May 2018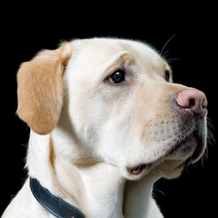 The Dementia Dog Project is looking to match and place two fully trained dementia assistance dogs in central Scotland. The talented Labrador duo, Lenny and Hope, are now ready to find their forever homes and help support people living with dementia and their full-time carers.
The Dementia Dog Project is a charitable collaboration between Alzheimer Scotland and Dogs for Good, and the first initiative of its type in the world to blend dementia specialist services with the provision of highly trained assistance dogs.
Following two years of specialist training, the dogs now have the skills to help enhance the quality of life for people living with early-stage dementia. The two dementia assistance dogs are now trained in a variety of specialist tasks, from retrieving medication to helping wake someone up to get dressed and can help with getting out and about in the local community.
As of today, the Dementia Dog team are keen to hear from people who can meet the criteria of applying for the dogs. Project Manager, Fiona Corner, explains: "It is wonderful to see the incredible impact these dogs can have for the people they go on to live with and support. We are now keen to hear from couples and families who would like to apply for one of these specially trained dogs.
"We are welcoming enquiries from people living throughout central Scotland. Applicants should be in the early stages of dementia and living at home with a full-time carer, have a fenced garden and love dogs. You don't need to have previously owned a dog in order to apply. These highly trained dogs are provided completely free of charge, with all support and training provided through the Dementia Dog Project."
Six months ago, Malcolm and his wife and full-time carer, Imke, received assistance dog Webb. Imke says, "Webb helps in all sorts of practical ways – fetching medication, taking off Malcolm's socks, finding and opening doors and getting us out of the house together. Webb introduces laughter back into the home; in turn Malcolm benefits by Webb giving me the strength to cope. The wonderful people from Alzheimer Scotland have also come into our lives to offer technical support and assistance in accessing practical help."
Henry Simmons, Chief Executive of Alzheimer Scotland, added: "There are few families in Scotland who are not living with dementia. We need new and innovative approaches to supporting them. The Dementia Dogs project is a fantastic example of collaborative and pioneering working to develop different types of support for people living with dementia and we have been thrilled to take this forward.
"Over the past five years, the project has had a wonderful impact for a number of families and we are looking forward to seeing more people living with dementia benefit from the support of a dementia assistance dog. Thanks to additional funding and the development of new initiatives, the project is leading the way in new and creative methods to bring dogs and people together to support people living with dementia and their carers."
For more information about this innovative project, visit www.dementiadog.org Those interested and who fit the criteria must register their interest by filling out an enquiry form. Contact the Dementia Dog Project team at bark@dementiadog.org.
Dementia is the biggest health and social care challenge faced by society today. There are around 90,000 people living with dementia in Scotland and it is now estimated that 20,000 people will be diagnosed with the condition every year by 2020. If you have any questions about dementia, or the support available in your area, call Alzheimer Scotland's 24 Hour Dementia Helpline on 0808 808 3000.