Volunteer retires after 8 years managing charity shop in Forres
Tuesday 15 May 2018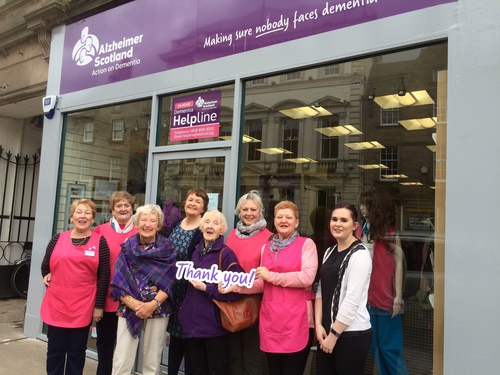 A well-known charity volunteer has stepped down from her role and retired after eight years of managing the Alzheimer Scotland's charity shop in Forres.
Inspirational Barbara Vesco known to everyone as 'Babs' has been a dedicated member of the volunteer team supporting the leadership of the shop on the High Street for the past several years building a strong customer base.
Barbara, celebrated her retirement with colleagues in-store and was presented with flowers and a beautiful Alzheimer Scotland tartan shawl, in recognition of her many years of hard work and dedication to supporting people living with dementia locally.
Megan Robertson, Community Fundraiser for Moray and the Highlands, said: "Babs has been a valued volunteer and friend to Alzheimer Scotland in Forres for the past eight years and we thank her for all that she has supported and achieved.
"Babs chose to support Alzheimer Scotland because she wanted to give something back to her community and was really impressed by the amount of funds which were invested back into Alzheimer Scotland locally to help support people living with dementia and their families from the shop. Babs is a true inspiration to us all and we are truly grateful for her hard work over the years. Happy retirement from everyone from Alzheimer Scotland!"
Becoming a volunteer for Alzheimer Scotland can help support people living with dementia their families and carers in many positive ways. From office-based volunteer roles to community based roles there are lots of different opportunities to utilise your existing skills and to learn and develop new ones. If you are keen to hear more about local volunteer opportunities currently available please Julie Penn from Alzheimer Scotland on Tel: 0131 551 9356.