Dementia Friends celebrates 60,000 milestone
Monday 4 June 2018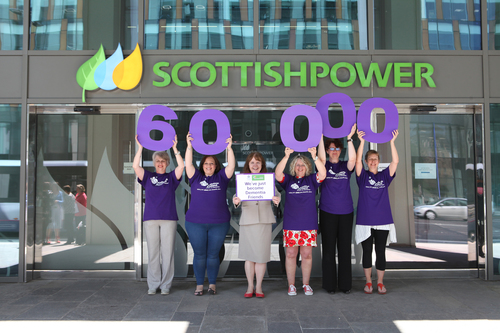 We're marking Scotland's Dementia Awareness Week, 4-10 June, by celebrating a major new milestone with over 60,000 people joining the Dementia Friends social action initiative to change perceptions of dementia.
With over 90,000 people living with dementia in Scotland and with few families untouched by the illness, the Dementia Friends programme, which is supported by the ScottishPower Foundation, which aims to transform the way the nation acts, thinks and talks about the condition, as well as challenging the stigma of dementia which still exists for thousands of families living with the illness.
Welcoming the milestone, Henry Simmons, Chief Executive of Alzheimer Scotland, said: "We are absolutely delighted that 60,000 people across Scotland have become Dementia Friends, and have committed to making the small but vital changes that will help people with dementia to feel understood and valued in our communities. This is a crucial step towards building a Dementia Friendly Scotland, where nobody should face dementia alone.
"Dementia is Scotland's biggest public health issue. We want people to join with us this Dementia Awareness Week and be part of a collective voice calling for the best possible information, support, care and recognition for everyone living with dementia. Together, we can make a real difference."
The Dementia Friends initiative aims to give people more insight in to the condition and the real challenges people living with dementia face. It demonstrates the small changes that can often make a big difference to people living with dementia such as adapting how you speak, giving clear information, removing some of the challenges that can cause confusion and changing behaviour – such as simply being patient in a queue.
Ann McKechin, Trustee and Executive Officer of the ScottishPower Foundation, said: "Alzheimer Scotland's Dementia Friends programme benefits people across the country by increasing awareness and understanding of this all too common condition.
"As a Dementia Friend myself, I can attest to the quality of the programme and the deeper understanding it gives participants of the effects of dementia and simple ways people can support people with dementia. It's fantastic to see tens of thousands of Scots commit to supporting people living with dementia.
"The ScottishPower Foundation is committed to promoting citizenship and enhancing the quality of life across our communities. We are proud to support the efforts of Alzheimer Scotland and its Dementia Friends programme and encourage most Scots to get involved."
Geoff Orry, a member of the Scottish Dementia Working Group, added: "When I was diagnosed with vascular dementia, my first reaction was to be ashamed. I didn't want anyone to know about my diagnosis, and the fact that there was no cure for dementia was devastating. I had so many questions.
"I think it's wonderful that so many people have taken steps to become Dementia Friends to help break down the stigma of dementia and to help people to live their lives better understood. I could not have climbed my Everest without the support of Alzheimer Scotland."
Find out about dementia and what's it's like to live with the condition by becoming a Dementia Friend at www.dementiafriendsscotland.org.
Everyone can play their part for Scotland's Dementia Awareness Week by getting involved at a local awareness event, by taking part in the online conversation #DementiaAwareness or by hosting their own event. For a list of local events visit daw.alzscot.org.
If you have any questions about dementia and of the support available in your area call Alzheimer Scotland's 24 Dementia Helpline on 0808 808 3000 or visit the website at www.alzscot.org.