Head of Localities
Friday 22 June 2018
Our vision is clear:
We aim to engage and connect with everyone who has a stake in what we do; to provide support and information, raise funds, support research, to campaign for and promote the rights of people with dementia and for those who care for them.
Together we can be the leading force for change. Together we can make sure nobody faces dementia alone"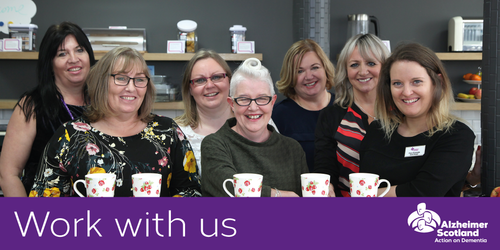 This exciting new Head of Localities post will be at the heart of our senior team, working to make Alzheimer Scotland's vision a reality in our localities across Scotland.
You'll be an inspirational leader and a great motivator, who understands the importance of building and supporting strong community connections with our supporters, donors and partners. You'll be passionate about mobilising the collective voice of people with dementia and their carers, alongside our members and activists; empowering them as citizens to influence and effect change at local level.
Click here to read the full job description.
The post-holder can be based in Glasgow or Edinburgh, with management of a portfolio that is currently predominately based across the east coast - but with the flexibility to support opportunities for localities leadership across Scotland.