Innovative approaches to care and support
Monday 3 September 2018
The most essential element of support for people with dementia, and those who care for them, is human interaction. Being able to talk to someone face to face or over the phone, is crucial in getting the information and advice you need to live well with the illness. Alzheimer Scotland is committed - through our Dementia Resource Centres, Dementia Advisors, community activities and 24 hour Freephone Dementia Helpline - to making sure that nobody feels they have to face dementia alone.
At Alzheimer Scotland, we're also committed to exploring innovative ideas and approaches, to make sure that people with dementia and their carers are supported in ways that work best for them as individuals, couples and families.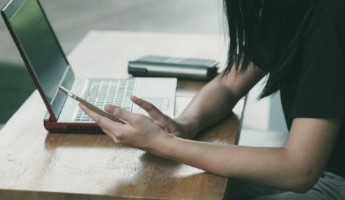 One of the innovative approaches we have recently undertaken are the new Alzheimer Scotland online surgeries. Each month, two online surgeries will be available, one with our network of Dementia Advisors and one with our Self-Directed Support Manager. These online sessions are private, between you and the host, and are another way in which you can ask whatever questions or queries you might have with regards to dementia support and advice in your area.
All you need is access to a computer, smart phone or tablet; this must have internet access and have the Google Chrome browser installed. You don't need to make an appointment, just log into the online surgery at the time when it is running.
Our next online surgery takes place on the 17th of September with our Self-Directed Support Manager. Find out more here.