Winter Lecture 2018: Myths and Dreams
Tuesday 25 September 2018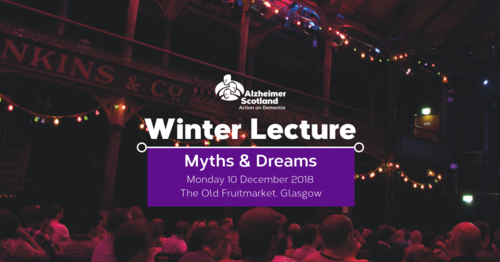 Alzheimer Scotland is excited to reveal details ahead of its annual Winter Lecture.
This year's lecture will focus on the theme: Myths and Dreams, will see Professor Karen Ritchie, Research Director, French Institute of Medical Research (INSERM) explore the assumptions made about Alzheimer's Disease in the twentieth century, as well as how these assumptions are being re-framed in the modern day.
The event will also take a close look at what we can learn from the past and where we hope to see dementia research going in the future.
Professor Karen Ritchie is a neuropsychologist and epidemiologist; she is currently a Visiting Professor at the Centre for Clinical Brain Sciences, University of Edinburgh and the Director of the French National Institute of Medical Research (INSERM), Research Unit (Neuropsychiatry) in Montpellier.
The research work currently being undertaken by this group includes population, clinical and molecular studies of neurological and psychiatric disorders, notably dementia. The group also collaborates with the European Government and WHO in the development of population indicators for mental health surveillance.
Professor Karen Ritchie will also be joined by Professor Craig Ritchie, Chair of the Psychiatry of Ageing and Director of the Centre for Dementia Prevention, the University of Edinburgh, who will give a short presentation.
All are welcome at the prestigious event, which this year is being hosted in the beautiful Old Fruitmarket in Glasgow's Merchant City for the first time.
Interested? Book your ticket now!
Tickets are £12 (Members) and £15 (non-Members) and include the opportunity to network and enjoy festive nibbles ahead of the lecture, which will begin at 6pm. Find out more.