Scotland's Dementia Award Winners in profile
Friday 19 October 2018
Best Educational Initiative was won by NHS Fife for their entry - 'Enhancing inpatient care using the Promoting Excellence Framework'.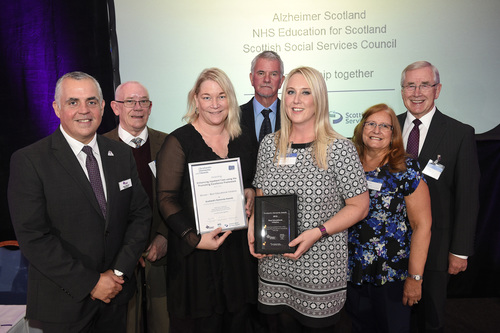 A bespoke 2-day interactive training programme was developed at skilled level of the Promoting Excellence Framework in which staff are encouraged to share their wealth of knowledge, skills and experience. A variety of teaching methods are included to promote learning and discussion. The programme also includes a module dedicated to Cognitive Stimulation Therapy.
Staff are asked to consider a small change that they would like to carry out in their ward, focusing on enhancing patient, relative or staff experience. There has been amazing work initiated which has been recognised by the Mental Welfare Commission, patient, carer and staff feedback.
Stress and Distress training at both skilled and enhanced level is also being rolled out and a learning framework has been developed identifying further education opportunities for Health and Social Care Staff.
Best Hospital Care Initiative was won by University Hospital Wishaw for their entry - 'Theatre Buddy'.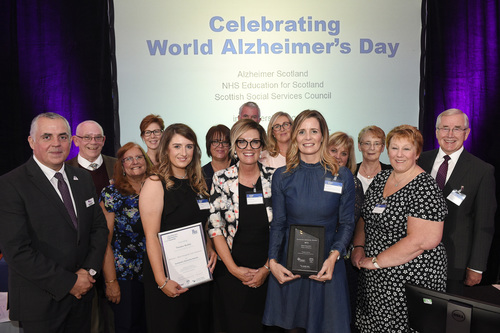 Going to theatre for surgery is a terrifying experience for patients with dementia, often the stress and distress before and after, can have a significant impact on their recovery and outcomes.
Theatre Buddy affords patients the opportunity to have a relative, carer or friend accompanying them to theatre, to be present in the anaesthetic room until they go to sleep and to be the first person they see in the recovery room.
Patients are less stressed in theatre and returning to the ward. Rehabilitation can start earlier; length of hospital stay is reduced as is the need for supportive medication.
There are lots of innovative projects taking place across Scotland. Find out what support is available in your community.