Committed couple
Tuesday 16 October 2018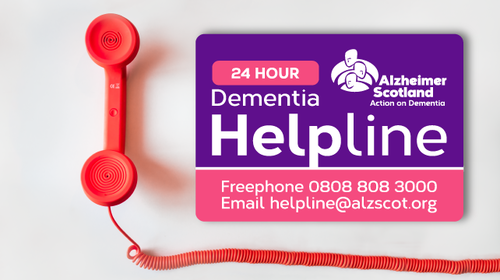 Alzheimer Scotland's 24 hour Freephone Dementia Helpline is there to make sure nobody faces dementia alone and this will be no different throughout the upcoming winter period. The 24 hour Dementia Helpline is there to provide information and emotional support for everyone affected by dementia. It can often be the first place a person will contact when they have concerns that they, or someone they know, might have about dementia. The helpline has never missed a minute of support, from when it first launched in 1989. However we would not have been able to provide this level of support if it wasn't for our wonderful group of highly trained volunteers.
Pam Lye has shared with us why her and her husband Carey volunteer with Alzheimer Scotland's Dementia Helpline.
"We had retired to Scotland and although busy in our retirement, Carey saw an advertisement in the local paper asking for volunteers for Alzheimer Scotland's freephone 24 hour Dementia Helpline.
Having worked with older people for many years as a Psychiatric Nurse, Carey thought it a shame to let his skills go to waste so he applied. After undergoing the mandatory training, he started volunteering on the helpline. That was 12 years ago, and a year after he started, it inspired me to apply too. My background is in nursing and teaching and I felt that I had a lot to offer the helpline.
The fact that we can take calls at home is a huge bonus but we really enjoy the team spirit of the Dementia Helpline team. We all work with the same ethos, in that we strongly believe that no one, be it a person living with dementia, or a carer or a person worried about dementia should ever feel alone.
There is no such thing as a typical shift. Calls vary in content and length. Sometimes callers need a specific phone number or other callers may be worried that they or a loved one has the early signs of a dementia type illness and need help or reassurance. We cannot give advice, but we can signpost to the best way to get help.
There is help out there, but at a time of emotional crisis many callers often just do not know where to find it and the helpline is often a first point of contact. Our training offers the way to help find a solution to the problem; often just talking the problem through with someone who is impartial and non-judgmental can make a real difference to the caller. While most of the calls come from Scotland, we have had many enquiries from all over the UK and occasionally much further afield. Calls are confidential and anonymous, unless the caller wishes to give a name.
By working as a husband and wife team we're able to share a shift, one covering for the other when needed. Carey is an armchair rugby and motor racing enthusiast, so I cover the phone on match and race days and I am a quilting enthusiast so Carey looks after the phone when I'm busy working on a quilting project. We can also discuss calls together and offer moral support to each other after a difficult call, but there's a huge range of support from the wider helpline team.
We just work quietly in the background and are proud to give something back to our community. To anyone thinking of volunteering for the helpline, either as an individual or like us, a couple, we would really recommend it. We are sure that you too will find it a rewarding and well supported experience. "
If you, or anyone you know, needs support over the festive period please phone our 24 Freephone Dementia Helpline on 0808 808 3000
The 24 hour Freephone Dementia Helpline is a vital service for people with dementia, family members, carers and professionals. This would not be possible without our volunteers so you would like to enquire about helpline volunteering opportunities, please contact Jennifer Hall on [email protected]. For details of all other volunteering opportunities, visit www.alzscot.org/get_involved.