Caring Iggy presented with a medal
Wednesday 14 November 2018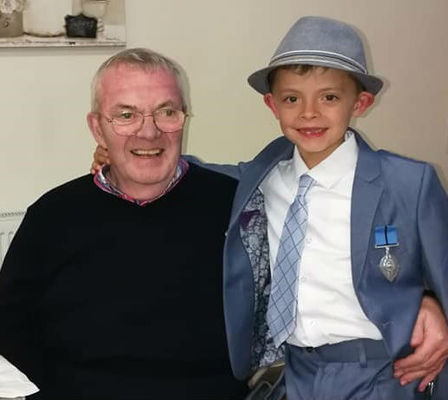 A school boy from Edinburgh recently visited the Palace of Westminster to be honoured for his kindness and compassion by the annual British Citizen Awards.
Six-year-old Iggy Just received a British Citizen Youth Award (BCyA) and was presented with a special medal by Ashley Banjo of Diversity in recognition for being a young carer for his Grandad who is living with Alzheimer's disease.
As well as caring for his Grandad John Collins, age 71, Iggy has undertaken fundraising for Alzheimer Scotland and completed a 5K walk in 2017 aged just five, raising £650 for the charity.
Iggy's Grandad was diagnosed when Iggy was just a few months old and since his first birthday his family have lived closer to help take care of his Grandad. Iggy has been, and remains, an integral part of his Grandad's dementia journey providing lots of love, care and cuddles during regular visits.
Playing, drawing and singing songs with his Grandad, Iggy, though only six, provides supervision preventing Grandad from leaving the home or garden. Iggy also gives his Grandad nightly medication a task which had previously been carried by his Iggy's Nan. Due to cognitive impairment his Grandad had forgotten how to take medication and would chew the tablets or just refuse to take them, with Iggy's direction, his Grandad now manages to take his vital medication correctly.
Iggy's Mum, Natasha Collins-Just, said: "Iggy's Grandad was diagnosed 7 years ago with early on-set Alzheimer's and has been heavily supported by the Lothian Early Onset Support Service since his diagnosis. He also attends the Dementia drop-in cafes at Cramond Kirk and Quakers Meeting Hall every month.
"Iggy wanted to help raise funds for Alzheimer Scotland to help give something back and to highlight the wonderful work that they do for people living with dementia.
"Iggy remains an integral part of his Grandad's journey and his love, affection and care are far more effective than any prescribed medication."
"I'm so proud of our Iggy, he's our special little boy."

Well done Iggy you are an inspiration to us all!
We have lots of information about caring for someone with dementia. Take a look at our info pages.