Re-opening celebration at West Dunbartonshire Dementia Resource Centre
Thursday 15 November 2018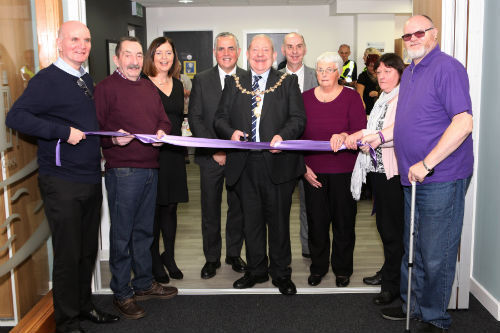 Alzheimer Scotland officially opened its newly refurbished West Dunbartonshire Dementia Resource Centre this week. The centre, located on Miller Street in Clydebank for the past five years, will continue to serve as a community hub to support and connect people living with dementia and their carers and families across the region.

The opening celebrations were led by Provost William Hendrie from West Dunbartonshire Council and Fraser Downie from the West Dunbartonshire Health and Social Care Partnership, along with Alzheimer Scotland Chief Executive Henry Simmons, Resource Centre staff, local volunteers and supporters as well as people living with dementia and their carers.

The new-look Dementia Resource Centre brings dementia to the high street by providing a stimulating and sociable environment for people living with dementia, their families and carers to access information, advice and support locally.
The centre provides organised day care groups on Monday, Tuesday, Thursday and Friday. In addition, the new café area hosts an active and imaginative calendar of group activities for a wide range of interests. These include a monthly family quiz, supper club, peer support groups, a weekly activity group and a fortnightly reminiscence group. These groups provide a friendly and welcoming place for people with dementia, their family, friends and the local community to meet up for a cuppa and a blether.
Henry Simmons, Chief Executive of Alzheimer Scotland, said: "We are committed to providing the best possible standard of information, activities and support to people with dementia and those who care for them, in the heart of the local community. Our newly-refurbished Dementia Resource Centre is a bright, welcoming and easily-accessible community hub, dedicated to ensuring that nobody has to face dementia alone.
"Alzheimer Scotland would like to extend a huge thank you to everyone who has supported today's opening. The ongoing generosity of our supporters is what makes our vital work possible, both here in West Dunbartonshire and across Scotland."
Alastair Black, Service Manager from the West Dunbartonshire Alzheimer Scotland Dementia Resource Centre, added: "Our Resource Centre has been a successful local hub for Alzheimer Scotland to provide high quality support, information, advice and activities for people living with dementia, their families and carers throughout West Dunbartonshire for a number of years now. With more people and families living with dementia, we are as determined as ever to support our mission that nobody should face dementia alone locally."
Local carer, Harry Martin, added: "The new centre is for myself and others a nice warm and friendly place with very helpful staff. We all share our experiences with one another. We are like one family."
Find out more about local activities and groups in your area.