Making a positive impact
Monday 3 December 2018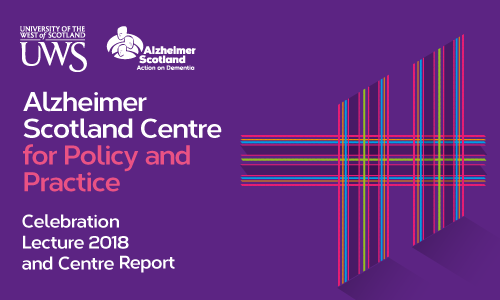 The Alzheimer Scotland Centre for Policy and Practice at the University of the West of Scotland is committed to making a positive impact on the lives of those with dementia as well as their families, whether it's through developing dementia education, applied research or policy influence. Its vision is to be a centre of excellence in advancing dementia policy and practice through education, applied research and social enterprise.
Its mission is to work collaboratively with people with dementia and carers, the scientific and practice communities to advance evidence informed dementia policy and practice.
Their annual report for 2018 highlights the many achievements of the centre over the past 12 months, including its second annual Celebratory Lecture (held on Wednesday 7 November, at UWS' new campus in Lanarkshire). You can read and download the report here.