Re-opening of East Dunbartonshire Dementia Resource Centre
Thursday 6 December 2018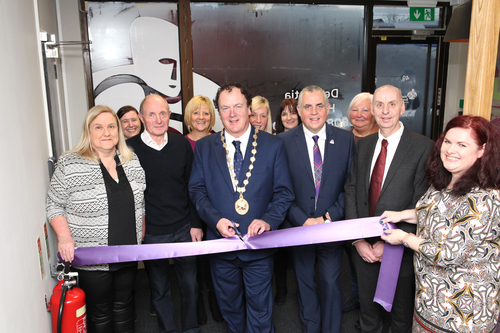 Alzheimer Scotland officially opened the newly refurbished East Dunbartonshire Dementia Resource Centre on Friday 30 November. The centre, located on Milngavie Road in Bearsden will continue to serve as a community hub to support and connect people living with dementia and their carers and families across the region.

The opening celebrations were led by Provost Alan Brown from East Dunbartonshire Council along with Alzheimer Scotland Chief Executive Henry Simmons, Resource Centre staff, local volunteers and supporters as well as people living with dementia and their carers.

Initially opening its doors in 2011, the new-look Alzheimer Scotland Dementia Resource Centre brings dementia to the high street by providing a stimulating and sociable environment for people living with dementia, their families and carers to access information, advice and support locally.
Provost Alan Brown from East Dunbartonshire Council, said: "This new facility in Bearsden offers a lively and relaxed environment to provide support and advice, as well as a range of stimulating activities for everyone to enjoy. Knowing the work that Alzheimer Scotland undertake, I trust the centre will continue to help people living with dementia to adjust and cope with their new challenges, as well as helping them feel included in their community, so they can continue to live full, rewarding lives."
Henry Simmons, Chief Executive of Alzheimer Scotland, said: "We are committed to providing the best possible standard of information, activities and support to people with dementia and those who care for them, in the heart of the local community. Our newly-refurbished Dementia Resource Centre is a bright, welcoming and easily-accessible community hub, dedicated to ensuring that nobody has to face dementia alone.
"Alzheimer Scotland would like to extend a huge thank you to everyone who has supported today's opening. The ongoing generosity of our supporters is what makes our vital work possible, both here in East Dunbartonshire and across Scotland."
Alastair Black, Service Manager from the Alzheimer Scotland East Dunbartonshire Dementia Resource Centre, added: "With more people and families living with dementia, we are as determined as ever to support our mission that nobody should face dementia alone.
"Our dedicated and experienced team can provide information, advice and support needed to live well with dementia, to make important decisions about what matters to you, and to plan for the future.
"This is a very exciting time for us as the new-look centre will allow us to host our dementia day care service onsite and dementia-tailored therapeutic supports in a welcoming and comfortable setting."
One of the main features of the Resource Centre is the small specialist day service (available Tuesday to Friday) which can be accessed by people with dementia using Self-Directed Support. The centre now provides a comfortable environment where people with dementia, families and friends can meet up with their local Dementia Advisor to access information and advice. It also provides the base for Alzheimer Scotland's dedicated Community Activities Organiser, who works to provide a range of groups and activities including, Football Memories, Mind That Song and Come Dine with Us.
Find out more about local activities and groups in your area.