Ann's Great Wall of China Trek
Tuesday 8 January 2019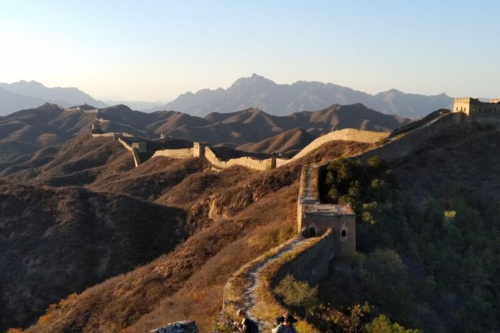 Do something amazing in 2019 for dementia and sign up to an event or help raise vital funds to support Alzheimer Scotland and together we can Change Dementia. Today we shine the spotlight on Ann Yourston who pulled on her walking boots to complete the Great Wall of China trek in 2018.
In honour of her parents, who passed away from dementia within three months of each other, Ann Yourston, took on one of her biggest challenges by signing up to the Great Wall of China trek to raise funds for Alzheimer Scotland.
The trip had extra poignance for the 51-year-old from Penicuik as the first day of the epic adventure fell on the same day as her mum and dad's 70th wedding anniversary by coincidence. Ann's parents, Nan and Les Hillam, were never far from her thoughts during the five-day hike which covered a distance of 36km.
"Since my parents both died with dementia in 2001, I have looked for ways to challenge and change people's perceptions of dementia and to raise awareness of dementia and help others affected by this illness", said Ann, who completed the trek with her friend and colleague in October last year.
Ann added: "The chance to travel, raise money and challenge myself physically, as well as mentally, was realised in 2016 when signed up to Trek Jordan and raised £2,700 for Alzheimer Scotland.
"A year or so after this I felt the need for another challenge. This time I decided on a 5-day trek along sections of the Great Wall of China.
"Part of the challenge of both treks was coming up with ideas to fundraise. Bake sales, raffles, car boot sales, eBay, donations from friends and family all played their part. As did the kindness of strangers, from the money donated by fellow participants at last year's SSSC Dementia Ambassador's Conference to the donation given by an elderly gentleman at one of my car boot sales who smiled and nodded at the Alzheimer Scotland poster I had on display."
"Raising the money has also been a great way to start conversations with people about dementia and hear their personal stories. I am also finding that folk are happier to talk about dementia nowadays which is great.
"After raising over £3,000, it was time to fly out and actually walk the walk and what an experience it was. The walk itself was tough, some days more so than others but on the whole I felt I had done enough preparation for it. The guides were fantastic and there was a real spirit of everyone helping each other along. The views throughout the trek were spectacular. China is a truly beautiful country and the people were so welcoming.
"It was all over far too soon really but the experience has left me with memories that will last a lifetime. I would wholeheartedly recommend it as a fantastic experience to anyone thinking of doing something similar."

Whether you're taking on the ultimate fitness challenge, starting the year off right with a New Year's Resolution or looking for a fun way to fundraise, there is something for everyone to take part in. What will you do in 2019? Join #TeamAlzScot today by visiting www.alzscot.org/changedementia