Back in the saddle to change dementia
Wednesday 23 January 2019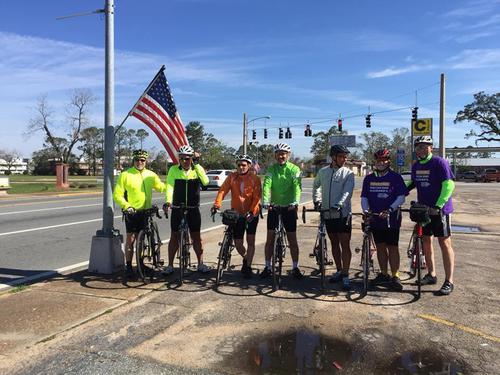 Do something amazing in 2019 for dementia and sign up to an event or help raise vital funds to support Alzheimer Scotland and together we can Change Dementia. Today we shine the spotlight on Alan Corsie who took on the ultimate USA cycling challenge against all odds.
Alan Corsie from Kinross completed his USA coast-to-coast fundraising cycle across America in November last year raising over £4,000 for Alzheimer Scotland, 52 weeks after his first attempt ended with a three week stay in hospital.

The cycle challenge which started in San Diego came to a devastating in October 2017 when Alan (55) was involved in a road traffic incident leaving him with two broken legs and a punctured lung and all dreams of finishing the 2017 cycle and reaching the Atlantic Ocean ending that moment. After receiving three operations on his legs and ankles and spending a few short months in a wheel chair and on crutches, Alan was back up and walking and more determined than ever to complete the challenge and cross the finish line. Incredibly by May 2018, Alan was back in the saddle and training again.
Looking back Alan says: "The accident was a complete nightmare, but I was determined to get back up to fitness to finish what I started.
"I was worried that it might be a slight anti-climax going back to where I left after the accident to take on just 300 miles of cycling, after aiming to do 3000 last year, but that wasn't the case.
"Many of the riders who took part last year, came back to accompany me, including my friend Allan who travelled all the way from Denmark. This made it seem like a real team effort again, and I was safely escorted all the way, mostly by riding in the middle of the bunch, so I almost always had other riders ahead of me and behind me.
"My legs were quite tired after just the first day, but after that I soon got into the rhythm of daily cycling, and the 6 days passed quite quickly. It was just a joy to be back cycling with my friends again. It was quite emotional when I finally reached the Atlantic Ocean at St Augustine. Everyone had been so pleased to see me back on my feet, riding again, and it was a great moment when I finally dipped my bike in the Ocean 411 days after starting out from San Diego last year. I had real sense of achievement and accomplishment.
"Larry and Chuck, the organisers, gave us all wristbands at the start, which said 'Whatever happens, keep on pedalling', but thinking of my Dad and all those living with dementia, I think they could equally have said; 'Whatever happens, keep on caring'."
Looking back at his main motivations to take on the epic cycle adventure, Alan added: "The idea to take on the TransAmerica cycle came about pure and simply because I wanted to help raise as much funds as possible for Alzheimer Scotland as my mum has been diagnosed with dementia as were my gran and uncle."
"I am delighted to have raised close to £5,000 for the charity who do so much to help support people living with the illness across Scotland.
Alan is now looking ahead to participating in the EPAD (European Prevention of Alzheimer's Dementia Consortium) dementia research programme in 2019 and hopefully beyond, to help support researchers as they work towards understanding more about Alzheimer's Dementia and what we can do to prevent and treat it. Well done Alan!
Whether you're taking on the ultimate fitness challenge, starting the year off right with a New Year's Resolution or looking for a fun way to fundraise, there is something for everyone to take part in. What will you do in 2019? Join #TeamAlzScot today by visiting www.alzscot.org/changedementia