Blog: LGBT History Month
Friday 15 February 2019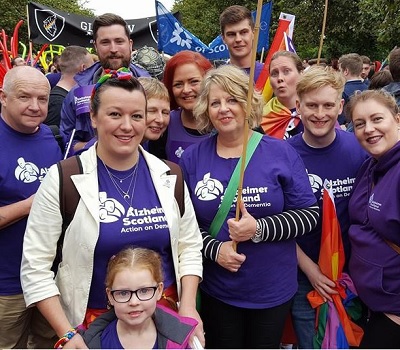 At Alzheimer Scotland, we believe that every person living with dementia has the right to be heard, valued and supported within their local community. As part of this work, two years ago we set up the Alzheimer Scotland LGBT Champions network, made up of our staff and volunteers from across our organisation. Our LGBT Champions aim to be role models within Alzheimer Scotland: championing positive behaviours, attitudes, terminology and challenging assumptions made about members of the LGBT community.
To celebrate LGBT History Month in February, our teams take a look back at LGBT celebrations in the Highlands in October: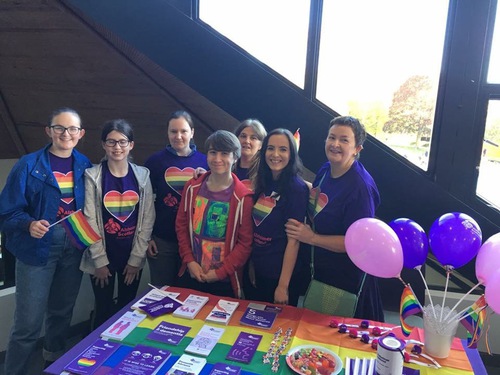 'Proud Ness' flooded the streets of Inverness in the first Pride Event in 16 years - by Hayley Lyons
Back on the 6th October, we marked the day of 'Proud Ness' – a momentous occasion for the Highlands LGBT+ Community. Inverness had not seen a Pride event like this is in over 16 years, with over 3,000 people coming to show their support. The Town House, Highland Council and local businesses showed their support on the day by flying their rainbow flags with pride all over the city.
Alzheimer Scotland hosted a stall within Eden Court providing locals with information on the support that we offer all over Scotland. Our stall was greatly received by people who had attended the parade, with our local team talking to hundreds of people on the day from young families to local councillors and people from all walks of life. Representing Alzheimer Scotland, our local team took part in the parade with their friends and families. They described the experience as "an inspirational experience filled with joy" and agreed that it was an amazing event to be part of.
I spoke to Alzheimer Scotland North Highland Team Leader Sarah Fraser, who recalled, "To play even a small part in such a huge movement for Inverness was remarkable and to do it representing Alzheimer Scotland and all that we stand for was an honour. "
The atmosphere on the day was filled with an overwhelming love, acceptance and emotion felt by all. It was a day of no judgement, of happiness and that really showed in the people that I spoke to throughout the day. It went to show that Alzheimer Scotland had a small but strong presence during the event and this was evidenced by the many people walking away wearing our Alzheimer Scotland Rainbow badges, a wonderful sight to see.
**
Proud Hebrideans celebrate Pride for first time by Marion MacInnes
Pride was also celebrated on the same day as Inverness, across the Minch in Stornoway. The main town of the Western Isles (Outer Hebrides) saw hundreds of people participating in the historic first official 'Hebridean Pride'. The event was pitched by organisers as a "celebration of acceptance and tolerance, a happy, peaceful and positive event".
The local Alzheimer Scotland team showed their support by attending the celebration events in town. It was such a success that we have since been chatting to the organisers about getting involved in future events.
It was a very emotional day for many people and their families particularly with the spectacular rainbow that appeared in the sky just prior to the events opening. The atmosphere was amazing and it was encouraging that so many people, felt confident and supported to express themselves.
Get Involved
To find out more about our LGBT Champions network and support, please contact Jenn Hall on [email protected].
LGBT Health and Wellbeing's new project (launched in July 2018) aims to raise the voices of lesbian, gay, bisexual and trans (LGBT) people affected by dementia and to support those working with people affected by dementia to better understand and meet the needs of LGBT people accessing services and support. To find out more about how we can support you to support LGBT people you are working with and to keep up with further briefings contact Megan on [email protected].