Purple Alert community helps in search
Monday 1 April 2019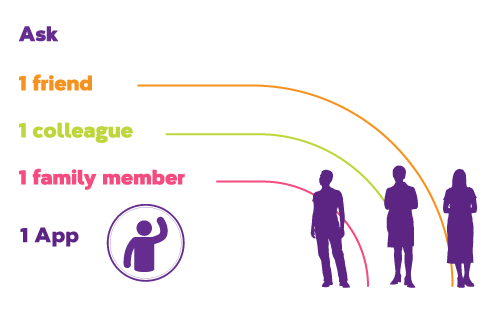 Purple Alert is the first app of its kind in the UK which helps to find people with dementia when they are lost. Audrey and James* were the first family to benefit from Purple Alert, which we hope will continue to help people with dementia and their families for many years to come.
Since her diagnosis of dementia Audrey's husband James has been her main carer, with support from their son Ian who lives locally. James ended up in hospital last year, meaning Ian had to think of alternative solutions to ensure his mum was still supported.
These included leaving her reminders to stay safe and not leave home however on the day of his hospitalisation, James had routine medication delivered to their house, causing Audrey to attempt to deliver this to James in hospital. As Ian was unaware of his mum's whereabouts and was unable to get in touch with her, he then contacted the police on 999 and his dad who had previously created a profile for Audrey on Purple Alert, which included a photo. James then created an alert on the app which was sent to everyone who had downloaded Purple Alert in a 30 mile radius of Audrey's home address.
Fortunately one of the people who received the alert was Lesley, who was out walking when she received the notification. Upon looking at Audrey's profile photo, she realised that she was sitting in a bus stop a few metres away from her and managed to reunite Audrey with her family.
Audrey had been missing for approximately four hours when Lesley found her. This was the first time Purple Alert was pivotal in finding a missing person but really demonstrates its importance in keeping people with dementia safe and the need for as many people as possible to download the app, to ensure a large online community is accesible to everyone.
*Names in this article have been anonymised