Amazing Ann Hill sews over £100k in fundraising
Wednesday 1 May 2019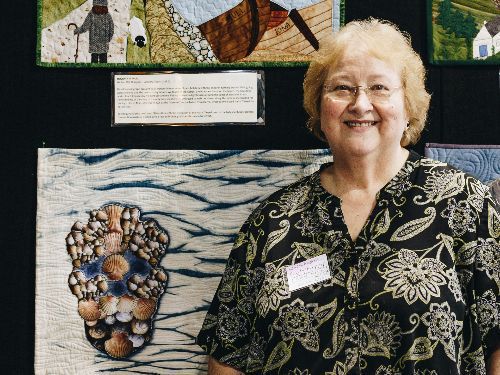 Ann Hill, Alzheimer Scotland's very own quilter-in-residence, has reached her personal fundraising target of £100k by raising £100,549.00 to help support the work of the charity.
Over the past decade Ann, from Dumfries, has been busy sewing memory quilts and inspiring people all over the world to get stitching for dementia. Notably, Ann covered the pitch of the national stadium at Hampden with a record-breaking 5,000 quilts with the memories of people with dementia as part of her engagement with the Football Memories project.
Ann recalls her love of sewing came from her beloved grandmother who taught her the skill age 8. Since then sewing has become a life-long hobby and passion for the retired education chief executive, who now teaches the art of sewing across the world and who has produced tens of thousands of quilts.
Reflecting on her amazing journey, Ann said: "It has been a very rewarding journey. I have given talks all over the country on how to make personal memory trigger quilts for people living with dementia. I have taught classes on Scottish quilts both here and abroad and the exhibition quilts which I have made along with those living with dementia have been exhibited in various quilt shows in Scotland and across the world and have also sold quilts to raise the funds.
"I have enjoyed meeting so many people over the years. I have laughed and cried with them and I hope I have made a small difference in their lives. I have also made many friends along the way who have joined me on this journey over the past decade. But most of all I enjoyed meeting those people living with dementia and their families."
Henry Simmons, Alzheimer Scotland's Chief Executive, who presented Ann with an award at the launch of Ann's latest quilt exhibited held at Shambellie House in Dumfries, commented: "Ann has worked as a volunteer quilter-in-residence for the past 10 years raising awareness of dementia all over Scotland and beyond. She has received a Point of Light Award from the Prime Minister, was chosen as a Baton bearer carrying the Queen's Baton for the Commonwealth Games and has awards for her work abroad as well as here in Scotland. She provides an opportunity for families to be involved in making memory trigger quilts for their loved ones. She does it with care and attention involving the families and friends of the person living with dementia and this in turn helps to pass on the message that no one need every go through this journey alone.
"Alzheimer Scotland has a thriving service in Dumfries and Galloway and the money raised by Ann goes some way to providing that service. We are delighted to have her as a volunteer and I look forward to her continuing in her role as quilter-in-residence."
If you would like to fundraise for Alzheimer Scotland please click here.
To read more about the work of Ann Hill you can visit ww.annhillquilter.co.uk.