Scottish Charity Awards 2019
Friday 3 May 2019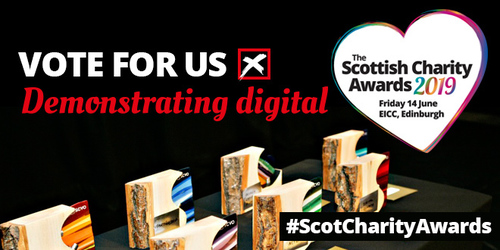 Alzheimer Scotland has been announced as one of the finalists for this year's Scottish Charity Awards.
Run annually by the Scottish Council for Voluntary Organisations, the awards are open to any voluntary organisation, charity, community group or individual charity volunteer or staff member, and celebrate the life-changing work they do and their dedication to making Scotland a better place to live.
Our charity will go up against five other charities in the Demonstrating digital category, with the winners being announced at the glittering awards ceremony on Friday 14 June at the Edinburgh International Conference Centre.
This award nomination highlights the work we are all doing to make sure nobody faces dementia alone. As people age in a digital world we must be ready to provide solutions that enter seamlessly into their existing and unplanned for future. In addition to person-centred resources they can now access from early stages of diagnosis a range of tested and trusted digital resources.
Our digital team has developed and delivered Confident Conversations about Technology learning days to over 1600 practitioners from partner organisations across Scotland. These practitioners can help families to consider technology as part of their care plan and can signpost to other sources of support.
Other supports developed include;
the use of Virtual Reality for therapeutic sessions, and to support the development of procedural memory,
the use of technology alongside our dementia assistance dogs; having them activate automated tasks around the home by interacting with internet of thing devices,
development of custom voice skills for Amazon Echo and Google Home; experience and testing has shown that this is a desirable and enjoyable way to find and receive information,
Purple Alert, a community minded app designed to help if someone with dementia is lost. The experience gained from the co-design and development of Purple Alert will be key to the success of this proposal,
Digital Dementia Resource Centres where anyone can come in and see technology in action, from using a video doorbell, to operating smart home devices like wifi bulbs and voice activated TV controls, to asking Alexa what time the art class start.
The shortlist includes 44 individuals and organisations from across the third sector in Scotland, and you can vote for Alzheimer Scotland in the People's Choice Award – by clicking here - before the 17 May 2019.
A vote from you will help share our work, raising the profile increases the opportunities for sharing and for it to be translated to many other long- term conditions, and keep Scotland right at the heart of a health digital revolution.