Policy Blog: Dementia, a priority across Europe
Wednesday 1 May 2019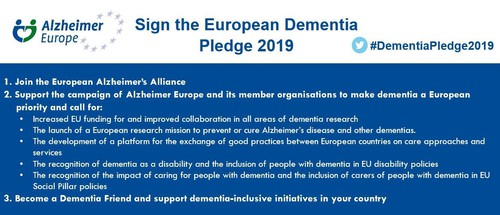 Alzheimer Scotland is calling on Scottish MEP candidates to support Alzheimer Europe's pledge to make dementia a European priority. In our latest blog post, our Head of Policy, Amy Dalrymple, talks about the importance of the European Dementia Pledge and our work with Alzheimer Europe:
On 23 May, voters across Scotland will go to the polls in the European Parliament elections. We don't know how long the MEPs we elect will sit in that Parliament, but while they are there, we want them to make a difference for people living with dementia.
The European Union can play a big role in improving the lives of people living with dementia across Europe, including in Scotland. Research – including research funding, developing approaches to care and support, and promotion of the rights of people with dementia and carers, are all areas where the European Union institutions drive progress Europe-wide. Collaboration between countries in these areas makes progress faster for everyone.
Alzheimer Scotland is an active member of the Alzheimer Europe group of voluntary organisations campaigning for improved care and support and rights of people with dementia. Whether the UK is an EU member or not, we will remain a member of Alzheimer Europe to work with others on areas where cooperation between our countries is the key to progress.
We are therefore calling on all candidates for the European Parliament Elections to sign the European Dementia Pledge 2019.
The pledge says:
On my election to the European Parliament, I will:
1. Join the European Alzheimer's Alliance
2. Support the campaign of Alzheimer Europe and its member organisations to make dementia a European priority and call for:
Increased EU funding for and improved collaboration in all areas of dementia research
The launch of a European research mission to prevent or cure Alzheimer's disease and other dementias
The development of a platform for the exchange of good practices between European countries on care approaches and services
The recognition of dementia as a disability and the inclusion of people with dementia in EU disability policies
The recognition of the impact of caring for people with dementia and the inclusion of carers of people with dementia in EU Social Pillar policies
3. Become a Dementia Friend and support dementia-inclusive initiatives in my country
Every member of the European Parliament has the potential to make a difference to the lives of people with dementia and carers. Alzheimer Scotland wants all candidates to sign Alzheimer Europe's pledge to make sure dementia is a priority across Europe.
Find out more information on our policy, public affairs and campaigning work. If you have questions, or would to speak to our Policy Team, email [email protected]